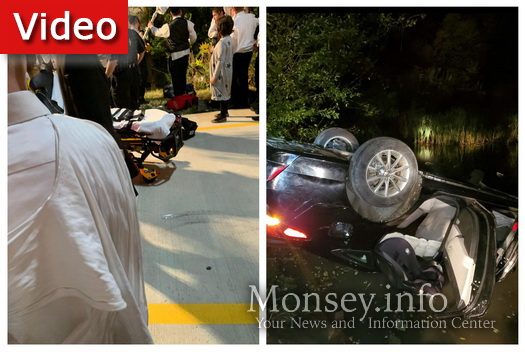 BDE: Car Overturns Into Drainage Area in Fatal Accident In Kiryas Joel
A fatal accident in Kiryas Joel took place Sunday evening when a car overturned into a drainage area. Multiple people were pulled from the submerged vehicle, with one person in Cardiac Arrest.
by Monsey.info
A fatal car accident took place around 7:45pm Sunday evening in Kiryas Joel, when a car with multiple people on board overturned into a drainage area, and partially submerged.
According to YeshivaWorldNews, the vehicle had been driving on Karlsburg Rd and Seven Springs Mountain Rd when the driver lost control. The vehicle drove off an embankment, and overturned into a small drainage area.
Emergency services rushed to the scene, and managed to pull the occupants from the vehicle.
Despite the quick response, one of the cars occupants was pulled out in cardiac arrest. The Emergency responders began CPR, but the man ultimately passed away.
Initial reports name the deceased as 26 year old R ' Yakov Farkash OBM.
The cause of the accident is under investigation.