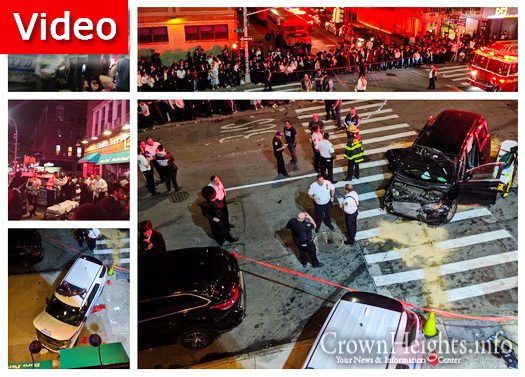 A NYPD vehicle was involved in an accident Motzai Shabbos, which sent the police cruiser onto the sidewalk, hitting two Jewish girls. Five people were injured in the accident in total, Hatzalah and EMS transported the injured to the hospital.
by CrownHeights.info
Around 9:45pm Motzai Shabbos, a police cruiser got into an accident at the intersection of 13th Ave ad 52nd street in Boro Park.
The accident sent the police vehicle onto the sidewalk in front of Landau's Health Store, striking two Jewish 18 year old girls.
The accident triggered a massive response from Hatzalah, EMS, Fire and Police.
Two Police officers, the two Jewish girls and another person injured were transported to Maimonides Medical Center in Boro Park. They are all listed in stable condition.