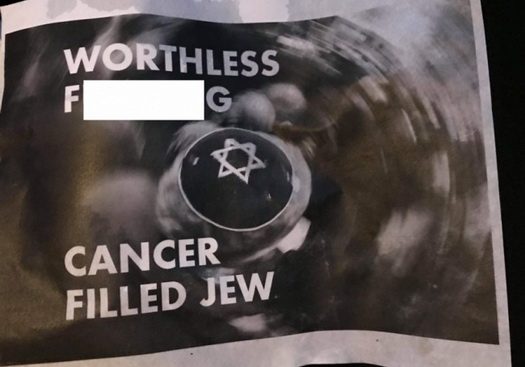 by Shane O'Brien – ridgewoodpost.com
Police are investigating an incident of anti-Semitism in Ridgewood after residents discovered hundreds of obscene flyers bearing anti-Semitic language near an entrance to the Halsey Street L station on Wednesday evening.
The flyers were littered across Norman Street, close to Wyckoff Avenue, and featured an aerial image of a Jewish man wearing a Kippah with a Star of David on top. The image was accompanied by the words "worthless f**king cancer filled Jew."
The flyers were first discovered by a local Ridgewood resident named Drew, who asked that his full name be omitted out of fear of retaliation.
Drew found the flyers at approximately 6 p.m. on Wednesday Aug. 14 and said that he was so horrified by what he saw that he didn't even think of calling the police.
"I didn't even think of calling the police, I was just absolutely horrified. I'm a Jewish individual and I was just horrified to see a flyer with what was written on it in that area. I didn't think there were people that would print that sort of stuff about somebody's religion," Drew said.
Read More at ridgewoodpost.com