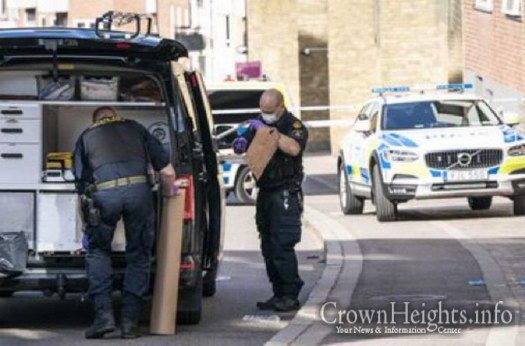 Police in Denmark have arrested the man who allegedly carried out a knife attack against a Swedish Jewish community leader in the city of Helsingborg on Tuesday.
Police spokesman Peter Kjellkvist confirmed the suspect was arrested in the early hours of Wednesday morning. Officers acted on a tip from their Swedish colleagues that the man had fled to the Danish side of the narrow sound that faces Helsingborg.
Kjellkvist said that the suspect would now be handed over to Swedish authorities.
Key details Tuesday's stabbing remain unclear. The victim, a leader of the small Jewish community in Helsingborg, has not been named. Said to be in her 60s, she was reportedly taken to hospital in a conscious state, but with serious injuries.
Though no details regarding the assailant's identity or motive have been released, Swedish police were standing guard outside the Jewish community's center in Helsingborg in the aftermath of the attack.
Israeli and Jewish leaders expressed concern that the attack was a further example of the increasingly violent nature of antisemitism in Europe.
A statement on Tuesday afternoon from the Conference of Presidents of Major American Jewish Organizations urged the Swedish government to "take all necessary and proper measures to ensure the safety of Sweden's Jewish population and to bring the perpetrator of this violent crime to justice," while the Simon Wiesenthal Center said that it was standing "in solidarity with the Jewish community of Helsingborg and pray[ing] for the victim's full recovery."