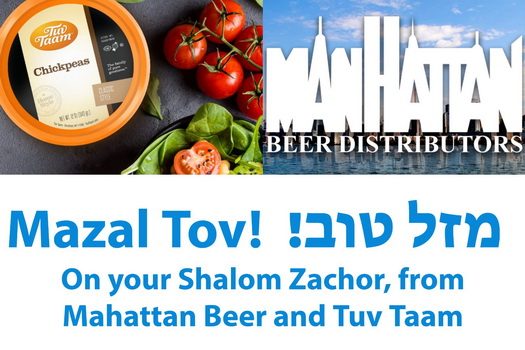 In the footsteps of Manhattan Beer owner Mr. Bergson, Tuv Taam will be donating chickpeas for Shalom Zachors this week.
by CrownHeights.info
Following the lead of Mr. Bergson from Manhattan Beer, who's viral selling of Chometz and subsequent donation of beer for Shalom Zachors has been lauded, Tuv Taam will be joining in donating arbis (chickpeas) to all the shalom zachors.
The Tuv Taam Corporation, one of the largest appetizer companies in the Tri-State area, (under the strict supervision of OK Kosher Certification) was inspired by the generosity of Manhattan Beer's mitzvah.
Tuv Taam's post-Pesach rush meant that workers came in specially to work on this mitzvah and make a special run just for the occasion.
Over 200 Shalom Zachors will be receiving the donations of beer and chickpeas, a source told CrownHeights.info.
If you are making a sholom zocher this shabbas, You can contact rabbi Kalman weinfeld by email kalmanweinfeldok@gmail.com