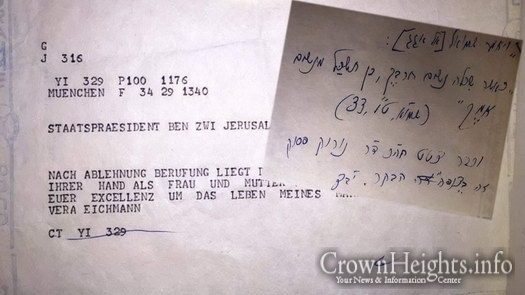 As Adolf Eichmann, a key player of Nazi Germany's murder of millions of Jews, stood to be executed by Israel, a pardon request was submitted by his wife. Then President of Israel Yitzhak Ben Tzvi responded with a quote from Navi Shmuel.
by CrownHeights.info
Adolf Eichmann was a mastermind and perpetrator of Nazi Germany's murder of millions of Jewish people throughout Europe.
When it became apparent that Germany would lose the war, Eichmann disappeared.
It took years, but eventually the Nazi hunters tracked him down, and a kidnapping operation set in motion.
Soon after, Eichmann stood on trial in Israel, which ended in a death sentence for the crimes he committed during the Holocaust.
A number of pardon requests were submitted on his behalf, one being from his wife. The request, sent to President Yitzhak Ben Zvi, asked to pardon her husband, claiming that he had four children.
Ben Tzvi responded with a handwriten note seen beside the document with the words of Samuel the prophet before he killed the king Agag. "Just as your sword made women childless, so shall your mother be childless amoung women!" (1 Samuel 15:33)