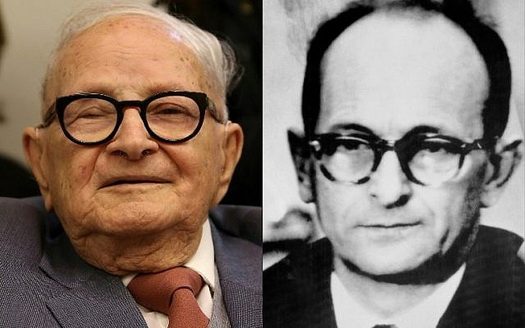 Rafi Eitan, Legendary Spy Who Captured Adolf Eichmann, Dies at 92
The legendary Israeli spy who masterminded the capture of Nazi war criminal Adolf Eichmann has died at 92.
Rafi Eitan was a Mossad agent in 1960 when, acting on information gathered by several independent Nazi hunters, he was dispatched as head of an Israeli intelligence squad to Buenos Aires to intercept Eichmann on his way home.
The team succeeded in capturing Eichmann and spiriting him out of Argentina to stand trial in Israel. After a lengthy proceeding that fascinated the global media and included many Holocaust survivors giving testimony for the first time, Eichmann was found guilty of war crimes and crimes against the Jewish people and sentenced to death. He was hanged in 1962 and remains the only person ever executed by the State of Israel.
Eitan would later reveal that he had brought a handgun with him during the operation, and had things gone wrong, he would have made sure that Eichmann did not escape alive.
Remaining active well into old age, Eitan served as handler for notorious American spy Jonathan Pollard and later entered politics, forming a party dedicated to the welfare of the elderly and serving as a government minister.
According to Hebrew news site Mako, Israeli President Reuven Rivlin remarked on the news of Eitan's death, "A courageous fighter has left us whose contributions to the security of the State of Israel will be a lesson for many generations. Rafi was a fighter in his soul, dedicated to his mission and his truth. Today, we bow our heads to his memory and part from him in sadness and with feelings of deep gratitude and admiration for everything he did for the people and the state."
Prime Minister Benjamin Netanyahu also eulogized Eitan, saying, "My wife Sara and I together with the entire people of Israel mourn the passing of Rafi Eitan — may his memory be a blessing — a dear one of the nation. Rafi was among the heroes of the State of Israel's intelligence services in innumerable operations for the security of Israel."
Netanyahu also noted that Eitan was active in finding property stolen from Jews during the Holocaust and returning it to its rightful owners.
"He was second to none in wisdom, his wit, and his endless commitment to the people of Israel and our state," Netanyahu added. "We mourn his passing."