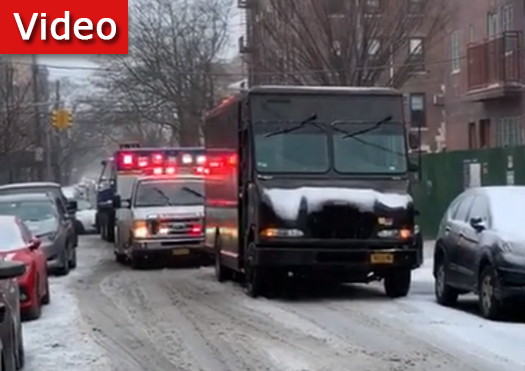 Shocking Footage of UPS Driver Disregarding Ambulance in Boro Park
A shocking incident was caught on camera when a witness filmed a UPS driver refusing to move for an ambulance in Boro Park. The ambulance at the time was heading to Maimonidies Hospital with a critical pt on board.
by CrownHeights.info
The shocking incident occurred on 47th St in Boro Park just blocks from Maimonidies Hospital. A witness pulled out his phone and began filming as he watched a UPS driver, who was blocking the street, refuse to move his truck for the Ambulance.
The ambulance can be seen on the video, with its lights on and horn blaring, for a half minute before the UPS driver, who was in his truck the whole time, begins to move. Sources from the ambulance service, East Midwood Volunteer Ambulance say that the actual time the ambulance was stuck for was 4 minutes. The video only starting towards the end of the incident.
The witness followed the UPS truck and confronted the driver. The UPS drivers response was to threaten him with a lawsuit should the video be publicized.
The witness filed a complaint with UPS Customer Support, who responded VIA twitter, "Wow, I apologize for this error. Please provide the date, time, with exact address of this incident. Also include the city, state, and zip code. We will also need your complete contact information. We will report this driver to UPS's higher management team. Thanks."