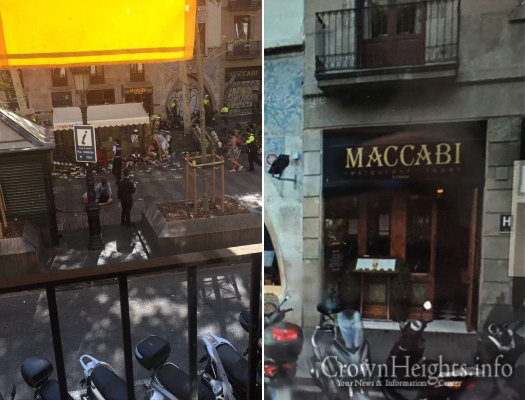 A van driven by a suspected terrorist rammed into pedestrians in a popular tourist area of Barcelona, Spain, right outside a Kosher restaurant run by the local Chabad emissary, Rabbi Dovid Liberson. At least 13 people have been reported dead in the attack, and many were injured, none patrons of the restaurant.
Police described the incident on Twitter as a "massive crash". Emergency services said people should not go to the area around the city's Placa Catalunya, and requested the closure of nearby train and metro stations.
El Pais newspaper said the driver of the vehicle had fled on foot after mowing down dozens of people.
Rabbi Dovid Liberson, Chabad Emissary to Barcelona, whose kosher restaurant Maccabi may have been the target of the attack, told Israeli media that "everyone in the restaurant was safely evacuated from the attack, which took place 100 meters from the establishment."