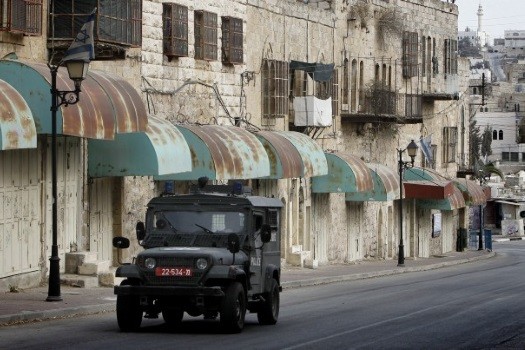 Illustration photo: IDF Jeep in Chevron.
From the Tazpit New Agency:
Two IDF soldiers were injured when a Palestinian driver rammed into a group of IDF soldiers Tuesday on Route 60 near the village of Bet Anoun south of Hebron. They were treated on the spot and evacuated to Shaare Zedek Medical Center in Jerusalem.
Palestinian sources named the driver as 29-year-old Rabat Habari from Hebron to reports. Witnesses said Habari approached the entrance to the village and accelerated towards the soldiers manning the checkpoint. Soldiers opened fire and killed him.
"When I got here I saw two people, each about 20 years old, fully conscious and able to walk. They were suffering from wounds to their limbs and faces after being hit by a car. We put them in the intensive care ambulance while administering treatment at the same time and brought them to Shaare Zedek in stable condition," said Magen David Adom paramedic Zaki Yahav.
Mount Hebron Regional Council Head Yochai Damari said that following a period of relative quiet, the attack hit a spot that has seen terror attacks in the past. "I send wishes for a speedy recovery to our dear soldiers and thank them, and the officers of the Yehuda Division, for their efforts day in and day out to ensure the safety of our residents.
"In recent months, led by Commander Itzik Cohen the Division is prepared with a defensive program that I'm happy to say proved itself (today). I am sure that in this incident, too, the IDF responded with the appropriate answer."