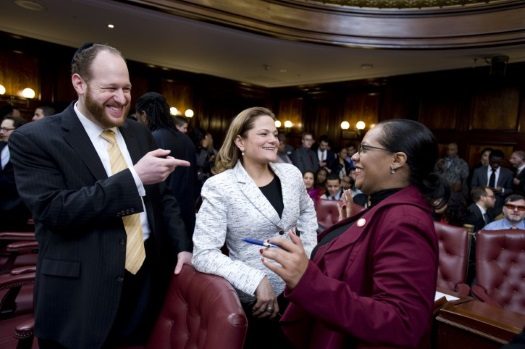 Councilman David Greenfield with Speaker Melissa Mark-Viverito and Finance Committee Chair Julissa Ferreras.
David Greenfield, a long term city council member who has been a vocal advocate for the Jewish community, is leaving public office to take over the reins at the Met Council, a major Jewish charitable organization.
From VIN News by Sandy Eller
City Councilman David Greenfield made waves this morning on social media with a tweet reading "Met Council is premier Jewish charity in NYC. Humbled that they want me to lead it after current CEO's retirement." Greenfield will be replacing Alan Schoor who took the helm at the Metropolitan Council on Jewish Poverty in April 2015.
Greenfield said that he was approached by Met Council's leadership several weeks ago about taking over the agency and after several meetings it became clear that they shared similar visions and goals.  He described Met Council's achievements as "legendary," noting that it encompasses 16 different Jewish community councils and provides $30 million in services all across New York City.
"As someone who has dedicated my life to helping others, it is just an amazing opportunity to take my passion and commitment to the community to the next level by leading the community's largest Jewish tzedaka," Greenfield told VIN News.
Greenfield will continue serving the remainder of his City Council term which runs through December 31st. While he described his seven and a half years on the City Council as "the greatest job in the world," Greenfield categorized the opportunity to lead Met Council as "a once in a lifetime opportunity."
Greenfield's departure leaves a door wide open for a newcomer in what was expected to be an uncontested race for the 44th District City Council seat. Greenfield said that he expects to have a meeting in the next few days with local leadership to determine the best candidate to succeed him in the City Council.
City Council Speaker Melissa Mark-Viverito was one of many to wish Greenfield well in his new position, saying "We congratulate Council Member Greenfield on this exciting opportunity and wish him the best of luck in his future endeavors."
The well wishes also poured in quickly on Twitter, with City Councilman Mark Levine describing Greenfield as a "fiercely effective advocate for the Jewish community & all NYers" and City Councilman Mark Treyger calling Greenfield "1 of the most effective/skilled legislators that I know."
Greenfield won his council seat representing the 44th District, which includes Flatbush and Borough Park, in a special election in March, 2010, and has since been re-elected twice more, in November 2010 and November 2013.  He is chairman of the City Council's Committee on Land Use and serves on Speaker Melissa Mark-Viverito's leadership team and the City Council's budget negotiating team.
Among the causes that Greenfield has championed recently that are of special interest to the Jewish community are increases in funding for special child care vouchers for low income families who may not qualify for public assistance, and providing security guards for all religious and private schools in New York City with an enrollment of 300 students or more.