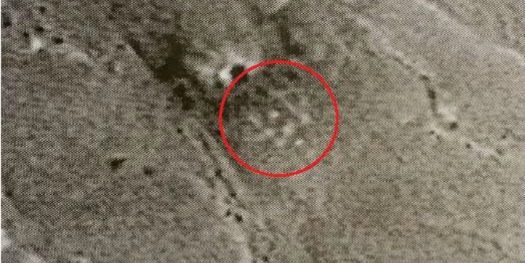 A satellite image, provided by the Israeli UN Mission, showing a Star of David next to a blast crater in Iran.
If there ever was any doubt as to the true intentions of Iran's nuclear ambitions and ballistic missile programs, this should lay it to rest.
from the Algemeiner by Barney Breen-Portnoy:
Israel accused Iran on Wednesday of using a Star of David as a target during a medium-range ballistic missile test last year.
The Jewish state's UN ambassador, Danny Danon, gave the Security Council what he said was new satellite imagery of a white Star of David painted on the ground next to a blast crater produced by a Qiam missile warhead.
According to Danon, the test took place in November.
"This use of the Star of David as target practice is hateful and unacceptable," Danon wrote in a letter to the Security Council. "The missile launch is not only a direct violation of UNSCR 2231, but is also a clear evidence of Iran's continued intention to harm the State of Israel."
"The targeting of a sacred symbol of Judaism is abhorrent," Danon continued. "It is the Iranians who prop up the Assad regime as hundreds of thousands are killed, finance the terrorists of Hezbollah as they threaten the citizens of Israel, and support extremists and tyrants throughout the Middle East and around the world. I call on the Security Council to respond decisively to these Iranian violations and provocations."