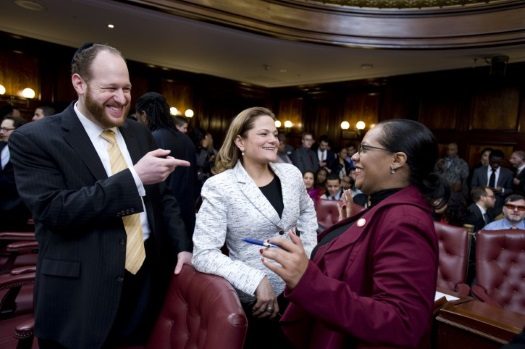 Councilman David Greenfield with Speaker Melissa Mark-Viverito and Finance Committee Chair Julissa Ferreras.
from VIN News:
Council Members Stephen Levin and David Greenfield are pleased to announce that, as part of the Fiscal Year 2018 budget negotiated between the City Council, under the leadership of Speaker Melissa Mark-Viverito and Mayor De Blasio, there will be a significant increase in the funding for Special Child Care vouchers that are available to low income families who may not qualify for Public Assistance.
The total budget, $27.3 million, represents an increase of $10.3 million from the $17 million in the Fiscal Year 2017 budget.  The Special Child Care program was started by the De Blasio administration, in collaboration with the Council, after years of devastating cuts to low income child care vouchers by Mayor Bloomberg.  The program currently serves 1,700 with thousands more on the waitlist.
"I am very happy that Mayor de Blasio and his team, especially Lincoln Restler and Avi Fink, worked with us at the Council to respond to this crisis," said Council Member Stephen Levin, Chair of the General Welfare Committee. "I'd like to thank Speaker Melissa Mark-Viverito and Council Member David Greenfield for their continued commitment to child care. We have a collective responsibility to ensure that families who are working hard to make ends meet have some assistance from our great city when it comes to child care.
As Chair of the Council's General Welfare Committee, I look forward to working with Commissioner David Hansell to make sure that basic child care continues to be a priority and is available to all low income families that need it."
"This is a historic achievement for struggling families who rely on these important vouchers," said Council Member David Greenfield. "For the first time in year we will see new slots for children. That's incredible. Special thanks to Mayor de Blasio, Chair Steve Levin and Speaker Melissa Mark-Viverto for partnering together to make this happen. I was proud to be a part of this historic effort,"