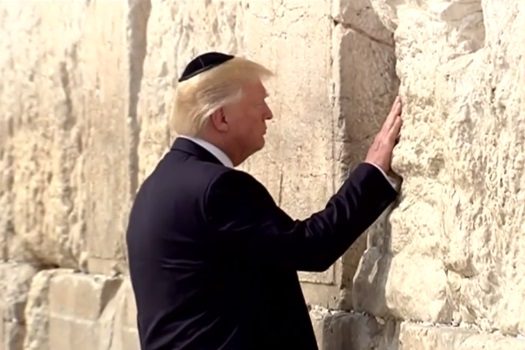 Clad in a black yarmulke, President Donald Trump made a historic visit to Jerusalem's Western Wall today, Monday, standing before the holiest place where Jews are permitted to pray and saying a few words before inserting a note between the monumental stones. He is the first sitting U.S. President to do so in history.
He was accompanied by the Rabbi of the Western Wall, Shmuel Rabinowitz, who said on Israel Radio that he recited two psalms with the U.S. leader. One of them, Psalm 122, speaks of Jerusalem as a "city that is united together".
"(Trump) said that he understands the significance of the Western Wall for the Jewish people and that's why he decided to visit here during his first trip to Israel. He is certain he will come here again, perhaps many times. He was very moved," Rabinowitz said.
This is the first time in history a sitting U.S. President has visited the Western Wall. George H.W. Bush, Bill Clinton, George W. Bush and Barrack Obama each visited the Western Wall as private citizens or candidates.