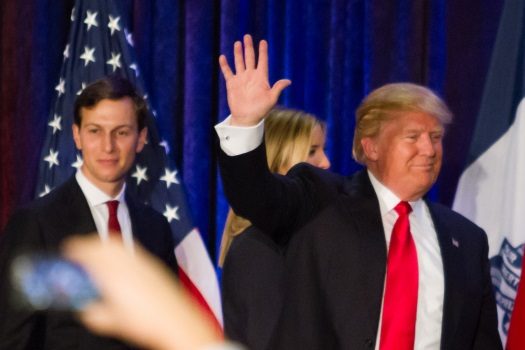 President Donald Trump declared May 2017 Jewish American Heritage Month in a proclamation. The statement specifically mentioned his Jewish daughter, Ivanka, and her husband Jared Kushner.
from the JTA:
"During Jewish American Heritage Month, we celebrate our nation's strong American Jewish heritage, rooted in the ancient faith and traditions of the Jewish people. The small band of Dutch Jews who first immigrated in 1654, seeking refuge and religious liberty, brought with them their families, their religion, and their cherished customs, which they have passed on from generation to generation," read the proclamation issued by the White House late on Friday.
"The moral and ethical code of the Jewish people is inspired by their spiritual vocation of 'tikkun olam' ‑‑ the charge to repair the world.  Through that vocation, the Jewish people have left an indelible mark on American culture.  Today, it is manifested in the towering success Jewish people have achieved in America through a unique synthesis of respect for heritage and love of country," the proclamation continued.
President George W. Bush first proclaimed May as Jewish Heritage Month in 2006, and it has been observed by every president since.