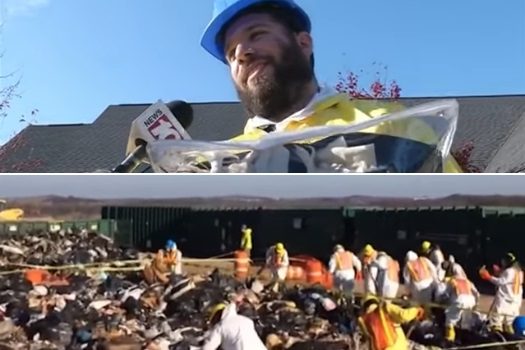 Contrary to an Arutz Sheva news report and social media messages currently going viral, Yeshiva World News has confirmed that the missing Tefillin being searched for in a Upstate New York garbage dump have unfortunately not been found.
From Yeshiva World News:
The rumors started when an Israeli news website saw a video from a local news agency in NY, where one of the volunteers searching gave the media an interview. The volunteer held up his own Tallis bag to show what they are looking for, and the Israeli news website took a screenshot of this image and wrote an article about the Tefillin being found.
One of the lead volunteers just spoke with YWN who said that the group returned to Brooklyn last night after 2 days of searching. The group searched 16 containers of trash, and plan on returning to search the next 16 containers in the hopes of finding the missing Tefillin.
As YWN had reported last week, the Tallis and Tefillin, owned by a melamed, were lost in the Lee Garden Shul, a Satmar Shul on Lorimer Street, in Williamsburg. In that shul close to 2000 people daven and learn there each day. The Tefillin were placed securely in a cubby outside the Beis Midrash. On Wednesday morning, after the Tefillin were placed in the cubby, the melamed went to teach.
Slowly, the Tefillin bag inched its way forward. There was a garbage can next to where the Tefillin was kept. At precisely 7:09 PM last Wednesday, the Tefillin gently slid down into the garbage can. There were people standing around, but no one had noticed.
The melamed looked for his Tefillin the next Thursday to no avail. He borrowed Tefillin. Finally on Motzai Shabbos, they looked at the security camera footage. That is when they saw the Tefillin slide off.
The garbage was picked up Shabbos morning.