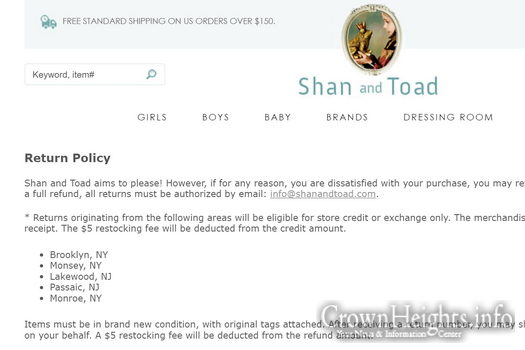 Kids' Clothing Site Bans Returns from Jewish Areas
A website that sells designer-only duds for kids whose no returns policy applies only to five areas that are home to large Orthodox Jewish communities says that its rules were enacted as a matter of business and not discrimination.
From VIN News by Sandy Eller:
Shan and Toad, an online boutique selling exclusive fashions for babies, girls and boys, is based in California. Its website offers full returns on non-sale items except swimsuits, less a $5 restocking fee, on all pre-authorized returns that are sent back within seven days of receipt to all customers.
Except those living in Brooklyn, Monsey, Monroe, Lakewood and Passaic.
The return policy, which is clearly posted on the website, was born out of necessity explained its Orthodox Jewish owner Shana Laub according to Northwest Now.
"It has nothing to do with prejudice against race or religion because that is not the case," said Mrs. Laub, the mother of three girls.  "The only common thread between these areas would be a high volume of returns and an unwillingness to follow store policy."
Shan and Toad, which has over 20,000 Instagram followers and describes itself as the "chicest childrenswear e-boutique," noticed a pattern of customers in those five areas routinely placing large orders, often ordering a particular item in multiple sizes hoping to get the right fit for their child or children.
Those orders would deplete the store's inventory, preventing other customers from placing orders, with items frequently returned days or even weeks later.  In the interim Mrs. Laub was faced with the decision of ordering more merchandise at significant cost or being unable to fill customer orders.
In many instances clothing was returned to the site in poor condition after having been tried on and shipped back and forth.  Mrs. Laub said that when she told customers that she couldn't accept returns to lateness or damages, they threatened to dispute the credit card charges.
"The losses resulting from returns were becoming too great to sustain and we needed to implement a change," said Mrs. Laub.
Shan and Toad made the changes to its return policy a year ago and since then returns from the five designated areas has dropped from 34 percent to 13.3 percent.  Mrs. Laub said that outside of those five locations, the store, which ships its luxury fashions worldwide, has just a 2.8 percent return rate.
Tod Marks, a shopping expert and senior projects editor for Consumer Reports said that he has never encountered a return policy like the one at Shan and Toad, and he encouraged consumers to always familiarize themselves with any store's return policy before making a purchase.
"You've got to read that fine print," said Mark.  "You have to be understanding of the kind of business that they do."
Although New York State law, like many other states, does not require any stores to accept merchandise for returns, all stores in are legally required to post their refund policy.  Stores that fail to do so are required to accept returns for 30 days from the date of purchase. New York State law does not distinguish between online and brick and mortar stores.
At least one Shan and Toad customer who asked to remain anonymous said that she had no problem with the store's return policy, noting that Jewish owned clothing stores in Brooklyn rarely if ever offer cash returns.
"Every other store has only store credit so it is all the same to me," said the Brooklyn mother of three.
"There are people who sometimes order thousands of dollars worth of clothing for all of their children and then return it all," added another customer. "It's just not fair to the stores."