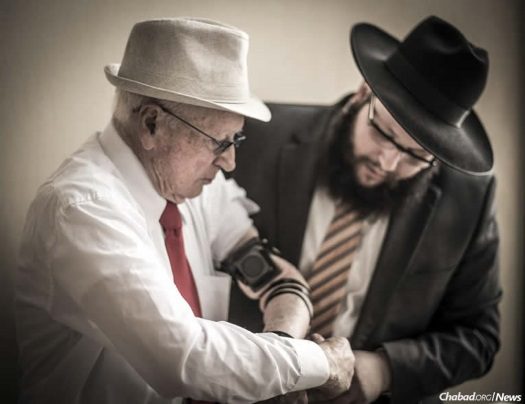 by Yaakov Ort – Chabad.org
Philip Bialowitz, who helped lead a revolt that freed hundreds of Jews from the extermination camp in Sobibor, Poland, during World War II—and who later shared his story of defiance and survival with thousands as a speaker and writer in the decades that followed—passed away on Aug. 7 in Florida. He was 90 years old.
Bialowitz was only 14 when he was sent to Sobibor, where he participated in a successful revolt by 40 Jewish inmates at the camp. All told, around 200 prisoners escaped, leading to the closure and dismantling of the facility by Nazi officials.
During the camp's operation, as many as 250,000 people lost their lives there.
"We all made a promise that whoever survived the revolt would share the story,"said Bialowitz soon after testifying at the 2011 trial of notorious Sobibor guard John Demjanjuk in Munich. He was already in his 80s when he traveled there. "It's especially important that the young generation should know about this experience of the Jewish people." He later published a book on his experiences, A Promise at Sobibor, and was a popular speaker who told his story at Chabad centers around the world. He was the last survivor of Sobibor.
Rabbi Shalom Stambler, director Chabad Lubavitch of Poland in Warsaw, often hosted Bialowitz in Poland, and recalled that he was "the perfect example of a real, happy, living Jew."
"Whenever he was with us on Shabbat meals, he would sing the famous cantorial piece 'Have mercy L‑rd our G‑d, have mercy on the people ofIsrael," recalls Rabbi Stambler. "Hearing this from such a man, with all he went through in his angelic voice would leave us all in tears."
"He was so alive," said Stambler. "He would meet with anyone who asked and get involved in every initiative, and each time he would find the right words to fit the group he was speaking to. He wanted to visit every Chabad in the world to share his story. He was so proud of the fact that one of his daughters was an Orthodox Jew living in Israel, blessed with a large family."
Bialowitz once said: "We must fight genocide and eliminate discrimination today. Unfortunately, the world has not learned the lesson of evil; the world is still profoundly broken. I hope we can succeed to build a better world, one without genocide."
Bialowitz, who was laid to rest in New York, is survived by his four children.