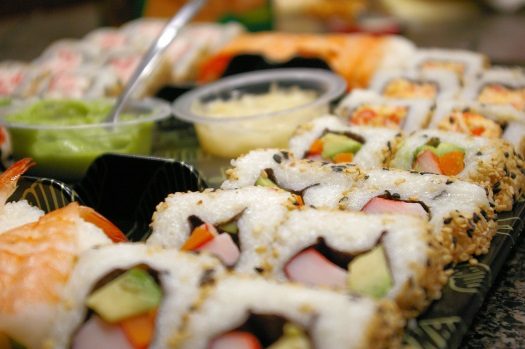 Enough with the Gefilte Fish; I'll Have Sushi
Yes, Sushi, which you won't find in most 20th-century Jewish cookbooks, let alone the Torah, has become a runaway hit in the city's Hasidic and other Orthodox-Jewish neighborhoods, reports the New York Times.
From the New York Times:
Orthodox Jews are eating dragon rolls, rainbow rolls, tsunami rolls and California rolls (using imitation crab) in sushi bars like Sushi Meshuga in Brooklyn or in more eclectic kosher restaurants and supermarkets. Weddings and bar mitzvahs aren't complete without a sushi station, and a sushi platter has become the gift of choice for Hanukkah and Purim, or to congratulate parents who are marrying off a child.
Pincus Yoel Freund, a managing partner of the firm that runs a leading sushi distributor, Sushi Maven, estimates that there are over 50 sushi bars in restaurants and grocery stores just in Borough Park, the city's largest Hasidic neighborhood, with at least another 50 in other parts of Brooklyn like Williamsburg, Crown Heights and Midwood. He says most have cropped up in the past five to 10 years.
Rabbi Moshe Elefant, chief operating officer of the kosher division of the Orthodox Union, the world's largest kosher certifier, said 80 to 90 percent of the city's 100 kosher restaurants now serve sushi.
"It used to be that what defined a Jewish community was a synagogue and a kosher butcher," he said. "Then it was a kosher pizza shop. Now it's a kosher sushi shop."