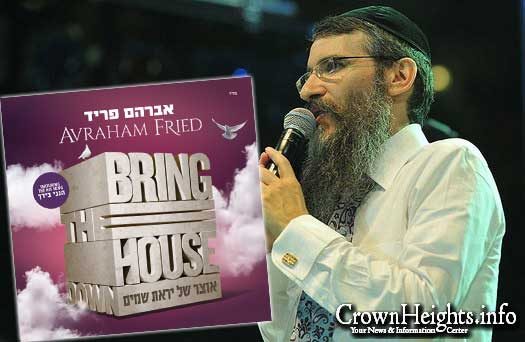 After many months of anticipation, Jewish music superstar Avraham Fried will be releasing his first new album in over four years today, Monday.
Titled "Bringing Down the House," the album will feature 14 songs, among them the popular single Hineni B'yodcho, which was the subject of some controversy after a studio recording was leaked to the public without the singer's permission.
The new album will reportedly be hitting stores later today, and will be widely available tomorrow.
Track List:
1 – Ithcha Ani (3:57)
2 – Bring The House Down (4:01)
3 – Otzar Shel Yiras Shomayim (5:55)
4 – Tateh Only You (4:50)
5 – Shaaraei D'mo'os (6:35)
6 – Kaparah (4:20)
7 – Playing With Fire (4:25)
8 – Kshoshanoh (5:16)
9 – Sameach (3:58)
10 – U'voisoi Hazman (4:06)
11 – V'anpoho (4:03)
12 – Hineni B'yodcho (6:31)
13 – Haliluhu (5:05)
14 – Recalculate (4:07)
Last week Fried published a video of him opening a box titled "to be continued":