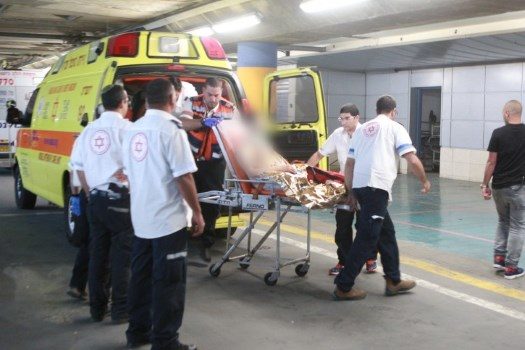 Charedi Man Stabbed at Jerusalem's Lion Gate
by Jesse Lempel/TPS
An Israeli man was stabbed in the back on Monday night in an apparent terror attack near the Lions' Gate in Jerusalem's Old City. A knife was found at the scene, the police announced, but the assailant has fled.
"A man about 60-years-old was sitting near the the Lions' Gate with a stab wound on the upper portion of his body," said Israel Weingarten, a paramedic who arrived on the scene to treat the victim. "He was fully conscious and told us that he was stabbed in an alleyway and ran toward the Lions' Gate to reach the security forces stationed there."
The victim is "a Jewish man, approximately 60 years old," according to a police spokesperson, who said that the man approached the police "and reported that he had been stabbed on Haldia St." A knife was subsequently found on the street during a police search and a manhunt is underway for suspects, the police said.
The victim is in moderate condition and remained conscious throughout.  He received initial treatment by paramedics and was sent to Shaare Zedek Medical Center for further treatment.
Police are sweeping the area in search of the attacker. One suspect has been detained for questioning but the search is ongoing.