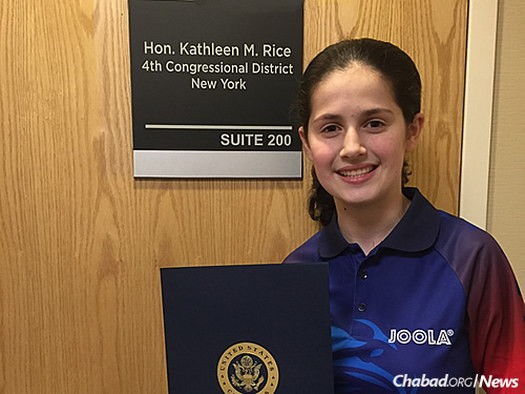 by Faygie Levy Holt – Chabad.org
One month after her participation in the U.S. Olympic Trials in table tennis, Estee Ackerman, a Shabbat-observant teen from Long Island, N.Y., was honored by U.S. Rep. Kathleen Rice (D-N.Y.) for her athletic achievements and personal integrity.
Calling Ackerman, who lives in the Rice's congressional district, a "table-tennis prodigy" and a role model for others, the congresswoman presented an award last Monday to the 14-year-old during a March 7 meeting. The certificate praised Ackerman's dedication, sportsmanship and outstanding accomplishments.
"You are going to do great things in the future!" Rice handwrote at the bottom of the award.
In response to the March 7 accolade given to her daughter, Chanie Ackerman said: "We are all very proud of Estee's accomplishments in table tennis and very much appreciate Congresswoman Rice's award to her."
The teenager made it to the Nationals in December in the "21-and-Under Women's Singles" category. Then she lost two rounds in consecutive days on a Thursday and Friday at the Olympic Trials the first week of February, and decided to forfeit her third (and final) chance to make the table-tennis team because the last matchup took place on Saturday—the Jewish Sabbath and a day of rest.
Somewhat of a celebrity for shomer Shabbat youngsters, Ackerman is even taking on the Passover vacation circuit. She plans to visit at least one local hotel where Jewish families stay during the eight-day holiday to host ping-pong events during Chol Hamoed, the intermediate days of the festival.