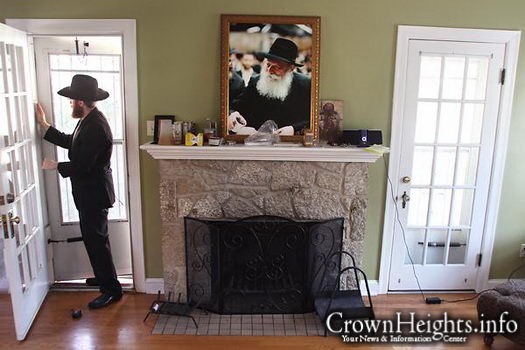 File photo: Rabbi Avremi Lapine affixes a mezuzah to a side door of his home in Columbia, MO.
University of Missouri-Columbia police are investigating a case of anti-Semitic vandalism after someone wrote "Hitler Rules" on a notification board inside Gateway Hall sometime Monday night or Tuesday morning. Shliach on campus Rabbi Avraham Lapine says the repeated incidents are concerning.
From the St. Louis Post-Dispatch:
The incident marks the fourth time university officials have investigated anti-Semitic vandalism in the past year at a school that has become a national symbol for strained race relations.
"This type of vandalism attacks everyone," interim Chancellor Hank Foley said. "Our core values — including that of respect — must become more than words on paper or a banner. They are the foundation of who we desire to be as a campus community and the way we all need to conduct ourselves."
Rabbi Avraham Lapine, who's with a Jewish organization that serves university students called Chabad, said the repeated incidents are concerning.
"It's not that each one is so serious by itself; it's serious because it keeps happening," Lapine said. "It raises a red flag."
Click here to continue reading at the St. Louis Post-Dispatch.