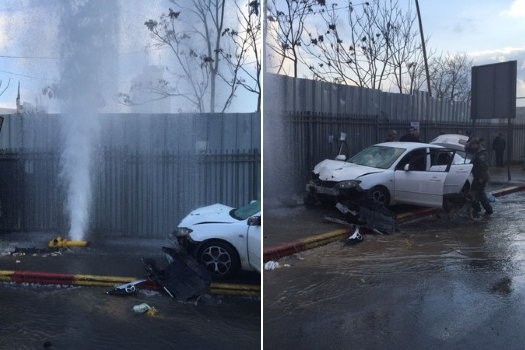 At least eleven people were wounded in a vehicular ramming attack near the Chords Bridge at the entrance to Jerusalem on Monday afternoon.
From The Algemeiner by Ruthie Blum:
A Palestinian terrorist rammed his Mazda into a group of Israelis standing at a bus stop in Jerusalem on Monday afternoon, Israeli news sources reported.
Three Israelis were moderately wounded, one of them a year-and-a-half-old baby, and eight others suffered different degrees of light injuries in the vehicular attack, which took place under the Chords Bridge at the entrance to the capital at around 3 p.m.
The terrorist, from the east Jerusalem neighborhood of Shuafat, was shot and killed by a civilian on the scene, before managing to take a large ax he had brought with him and use it to continue on a stabbing spree on foot.
Yossi Frankel, a volunteer from ZAKA emergency response services who was one of the first to arrive at the scene, told The Algemeiner that he got there just after the terrorist had been killed and was being removed from the car, so it could be searched for weapons.
"It was a horrible mess, as it always is after a terror attack," Frankel said. "But what made this one particularly difficult was the fact that the terrorist's car, when it drove up onto the sidewalk, caused a fire hydrant to explode, and water was spraying everywhere. This made it hard to treat the wounded."
After being treated on the scene by Frankel and other paramedics from Magen David Adom, all the wounded were evacuated to the Shaare Zedek and Hadassah/Ein Kerem Medical Centers in Jerusalem.
This attack was the latest in a series of daily terrorist incidents that has swept the country – particularly in Jerusalem and the West Bank – since the surge in Palestinian violence began two months ago.