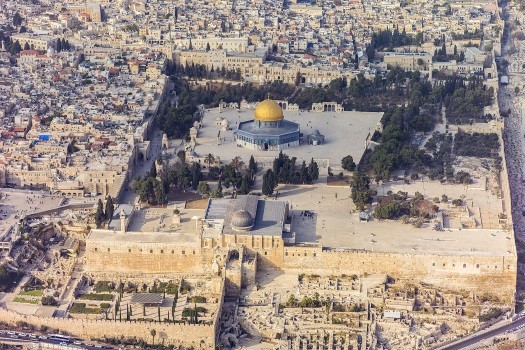 The Charedi Mishpacha newspaper created a social media firestorm on Thursday after it published an opinion article in which the first paragraph, printed in Arabic and in Hebrew, asked that since members of the Charedi public do not go up to the Temple Mount "could you please stop murdering us."
The article, written by Mishpacha Magazine deputy editor Aryeh Ehrlich, explained how the Charedi community refrains from going up to the Temple Mount since the Charedi rabbinic leadership prohibits visiting the site.
Almost all leading Charedi rabbis and arbiters of Jewish law rule that Jews may not visit the Temple Mount since they may enter areas that are forbidden to enter without undergoing purification rituals which cannot be conducted today.
"Us, the Charedi community, we have no interest in going up to the Temple Mount in our time," Ehrlich writes. "We oppose this vehemently. Moreover, Jewish law see this as a severe prohibition – punished by spiritual excommunication."
"So even if you have solid information on Israeli desires to change the status quo at the Dome of the Rock – something which is incorrect to the best of our knowledge – the Charedi community has no connection to it. So please, stop murdering us."
In the rest of the article, the Mishpacha deputy editor observed that several victims of the recent spate of terror attacks have been from the Charedi community, and wrote that he was trying to understand why this was the case.
He went on to detail a conversation he had with an Arab worker at a Rami Levi store and he tried to convince him that members of the Charedi public do not go up to the Temple Mount.
Ehrlich was subjected to fierce condemnation on social media once awareness of the article spread.
"How wretched and ghetto like can you be? Is this your version of 'loving your neighbor as yourself'? Of loving your fellow Jew,?" asked one person on Twitter. "Are you are calling on Arabs not to murder Charedim because they don't go up to the Temple Mount but insinuating 'go and murder those who do? Disgusting. What about just calling on them not to murder. It would be more humane and more Jewish."
One talkbacker on Charedi website B'hadrei Charedim exclaimed "What about other Jews who aren't haredi, them you should kill?????"
"The Mishpacha newspaper is turning to murderers to ask them not to murder Charedim…everyone else is okay apparently. (He forgot that the pogrom in 1929 was because Jews went to visit the Western Wall)," tweeted far-right former MK Michael Ben-Ari.
Following the outrage prompted by his article, Ehrlich took to Twitter and said that he was trying to explain in his article that the Islamic Movement in Israel was trying to create a religious war and has urged Palestinians to attack people with a religious appearance.
"My article in the Mishpacha Magazine says: This religious war is wild incitement based in imaginary rumors. Most people who observe the religious commandments don't go to the Temple Mount, if only because of the religious prohibition. The article was trying, naively it must be admitted, to tear the away the mask from the murderous Palestinian aggression which has been going on for decades, and to neutralize the false Islamic incitement."