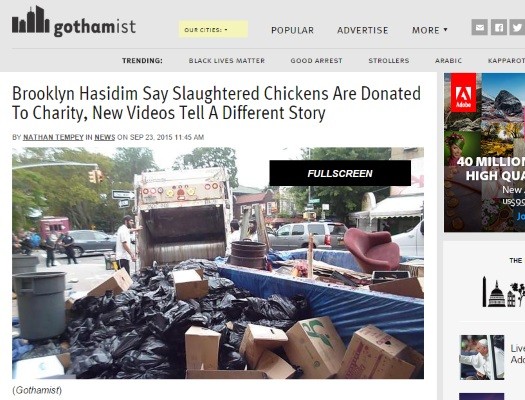 On Yom Kippur morning, New York News blog The Gothamist published several photos and videos captured by an anti-Kaporos activist that purportedly show chickens – which were slaughtered for Kaporos the night before – being tossed into a garbage truck.
The footage was captured at the site of the Kaporos run by 'Eishel-Hachnosas Orchim' – one of the organizations caring for the needs of the thousands of Tishrei guests – on President Street near the corner of Kingston Avenue.
While a few chickens can indeed be seen being thrown into the garbage truck, The Gothamist makes no effort to inquire as to whether these chickens were among the inevitable few that either died before or during the Kaporos, or were deemed unkosher after being slaughtered.
Instead, The Gothamist, which has recently been strongly pandering to anti-Hasidic agitators in the city with headline after headline attacking Brooklyn's Hasidic Jews, proclaimed this as evidence that the Kaporos organizers lied about donating the slaughtered chickens to the poor.
The article quotes an anti- Kaporos activist who readily admits that in Williamsburg, "some chickens do make it to food-processing locations," but then asserts – without a shred of evidence – that "a majority of those slaughtered are thrown away."
In case you assumed that had they obtained evidence that a majority of the chickens are indeed donated to the poor – their withering criticism would wane, you'd be mistaken. The article quotes a lawyer for the activists who says that donating the chickens to the poor would be illegal and wrong. "Alliance attorney Nora Marino made the point that if chicken carcasses are being donated for human consumption, many more federal, state, and local food-handling laws come into play, including the Federal Meat Inspection Act."
The Gothamist also makes a point of feigning concern over the state of cleanliness and smell of the street in the heart of Jewish Crown Heights, despite the fact that neither they, nor most of their readers, have any reason to walk there.