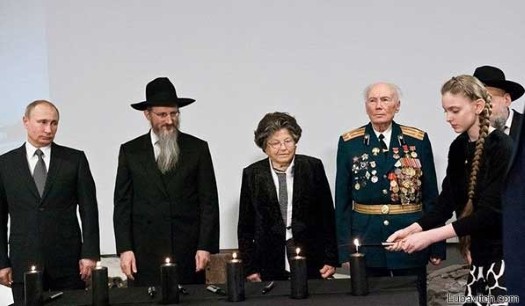 Mrs. Breindel Fleishman (third from the right), watches her granddaughter Naama Weisberg (right), light a memorial candle in remembrance of those murdered in the Holocaust.
Survivor Thanks Russia for Liberating Her from Auschwitz
"I have come here to thank the soldier from the Red Army who came to save me. Who knows where I would be today, if not for him," Breindel Fleishman, 90, told those gathered last month at the Moscow Jewish Museum and Tolerance Center to commemorate the 70th anniversary of the liberation of the Auschwitz concentration camp.
In mid-January 1945, the Soviet forces liberated Auschwitz, one of several German forced-labor camps, which included gas chambers, where over one-million Jews were murdered by the Nazis.
Joined by the Russian President Vladmir Putin, 50 foreign ministers and Rabbi Berel Lazar, chief rabbi of Russia, Fleishman told the crowd that in the merit of Russia that she now has hundreds of descendants, several dozen of them living in Russia, serving as Chabad-Lubavitch representatives. "Thank G-d for my wonderful family, and thank G-d for his messengers – in the form of the Red Army – for saving me," she told the assembled.
Fleishman (nee Tenenbaum), born in Torna, Hungary, had 10 siblings when WWII broke out. She tells of how broken she felt when all of her belongings were left behind when they were transported to the concentration camps. "I will never forget the smell of burning flesh as we arrived at Auschwitz and [Joseph] Mengele standing there as we exited the trains," she recalls.
She says that what gave her strength to survive was the education her parents gave her to always be happy with what she has and to share with others. She also says that her faith in G-d never waned. She made use of a small prayer book that one of the inmates was willing to share. Her parents, grandfather, and six siblings were sent to the gas chambers in August.
At the Moscow museum, the largest Jewish museum in the world, Putin told the assembled that it is true that the Red Army liberated Auschwitz, however, it is also important to know that over a half-a-million Jews served in the Red Army and half of them died in battle. "This is the Jewish heroism and we will never forget that," he said.
He spoke of Auschwitz's innocent victims, "murdered only because of the fact that they were Jews," and noted that the hatred of Jews still thrives today.
Fleishman, with several others, lit memorial candles with her granddaughter Naama Weisberg, whose parents are Chabad representatives in Moscow.
After the event Fleishman told reporters that she will never forget what the Nazis did to her and her family: "I am a living testament to what the Nazis did. The number the Nazis gave me is embedded until today on the flesh of my arm. We were numbers and not people. However, let them know, that having over 200 descendants today, many serving the Jewish community here in Russia, is my greatest revenge."