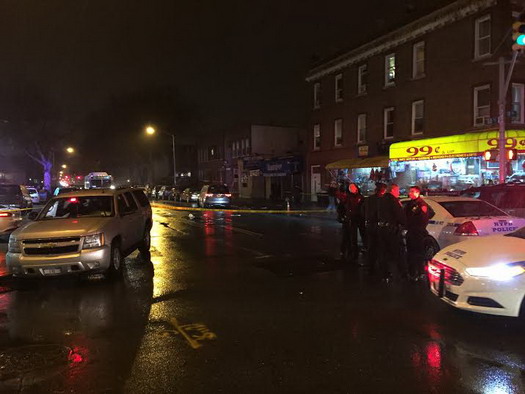 Photo: JP Updates
A 10-year-old girl passed away after being struck by a car while crossing the street with her mother Tuesday night in Borough Park, police sources told JP Updates.
At around 9:00 pm, a pregnant woman, in her 9th month, and the 10-year old girl were crossing the street at 18th Avenue and 60th street in Borough Park when they were struck by a vehicle. Hatzolah responded to the scene and found the 33-year-old mother pinned under the car, and the girl, Blimi, laying in middle of the street with serious injuries.
After treating them at the scene, medics transported the woman to Lutheran Medical center in serious condition, while the 10-year-old child was taken to Maimonides Medical Center in critical condition, where she succumbed to her wounds.
NYPD Collision Investigation Squad is at the scene investigating. The driver was arrested for a marijauna warrant from a past incident, a source told JP.
UPDATED 11:35pm: The mother, Suri Friedman, gave birth to a baby girl, and is expected to make a full recovery.
UPDATED Wednesday 5:30am: Police identified the driver as Bilal Ghumman, 22. During a interview with him it was determined that he worked for a valet parking car company at Ateres Chaya wedding hall, located at 54th street and 14th Avenue, and instead of parking the minivan, Ghumman used the 2015 Honda Odyssey minivan for his personal needs without the owner's permission. On his way back to the hall, Ghumman got involved in the fatal accident.
He was charged with unauthorized use of a vehicle without owner consent.
Ghumman apparently has 3 prior arrests, a police source told JP.