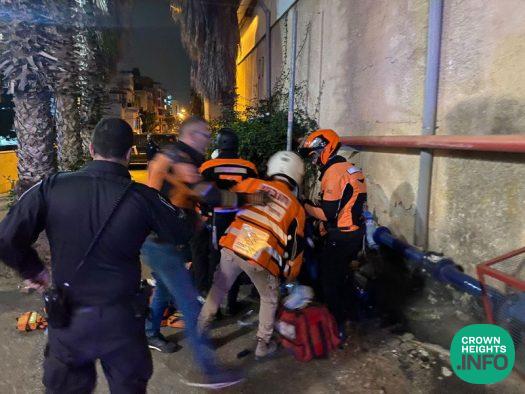 UPDATED 8:33PM: Terror Attack In Bnei Brak, At Least Five Critically Injured
At least five people have been critically injured in Bnei Brak in what is believed to be a drive by terror shooting.
Another unconfirmed report indicates a possible second terror attack in Ramat Gan.
There is much confusion and conflicting reports surrounding this shooting. CrownHeights.info will continue to update as more information becomes available.
Update 8:33pm: The fifth victim is a young Rabbi Avishaï David Yehezkel, aged 29. He was murdered while he going for a walk with his son to allow his pregnant wife to rest. He leaves behind a wife and a 2-year-old child.
Update 8:30pm: Sasha and Dima, two foreign workers from Ukraine, were killed in tonight's terror attack in Bnei Brak.
Update 5:35pm: Second victim of today's deadly shooting attack identified as Yaakov Shalom. He was one of the five victims of the terror attack in Bnei Brak tonight who was killed while driving his car past the terrorist. He left behind 5 children.
Update 4:51pm: Sergeant First Class Amir Houri, 32, from Nof HaGalil, is the police officer killed as he shot the Palestinian terrorist dead in Bnei Brak this evening.
Update 3:11pm: The terrorist who carried out the murderous shooting attack in Bnei Brak hsa been identified as Dia Hamarsha, 27, from the village of Ya'bad in northern Samaria. He served a six-month sentence in an Israeli prison for belonging to a terrorist organization and trafficking in weapons.
Update 2:51pm: Updated reports provide some additional information, and incredible stories of miracles surrounding this attack.
– At this time, the attack took place in two locations. In location #1 one person and a terrorist is dead. In location #2 three people have been confirmed killed.
– The terrorist is allegedly from the West Bank.
– Another person has been arrested in Ramat Gan, potentially having assisted in the attack.
– According to unofficial reports, most of the dead are not Jewish, with one of them being a Christian police officer.
– The gun used in the attack is still reported as being missing, leading the police to believe that at least one shooter is still at large.
– In a miraculous situation, video and audio testimony show as the attack was going on, a bochur was caught in the middle of the street with the shooter seen aiming an M-16 directly at him. Miraculously, the gun can audibly be heard jamming, allowing the bochur time to flee inside a nearby building.
Update: Eyewitnesses say a man on a motorcycle opened fire with an automatic weapon.
Update: As many as Five victims have so far been reported dead, and at least four others reported injured.