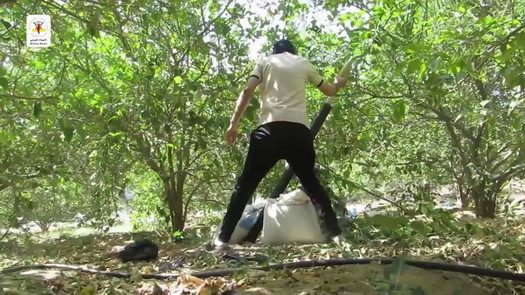 PIJ release a video of their operatives (in civilian clothing) launching mortars toward southern Israel today.
by CrownHeights.info
The ongoing conflict between Gaza and Israel continued unabated over Shavuos, with few changes since it began. CrownHeights.info presents an overview of the highlights from the last 48 hours, and live updates as events progress.
As has been happening unabated for nine days so far, Hamas and PIJ militants, among others, have continued to fire rockets and other explosives at Israeli cities.
To date, over 3,700 rockets have been fired from Gaza at Israeli territory, of which approximately 540 failed launches fell in Gaza. The Iron Dome Air Defense System has intercepted a majority of those heading towards populated areas with a success rate of approximately 90%.
The Gaza militant factions have also used mortars and Unmanned Aerial Vehicles in an attempt to hit Israeli targets. A 23-year-old IDF soldier was lightly wounded from mortar fire on the Gaza border earlier today
Of note, Hamas attempted to target Israeli bases with rocket fire over the last 24 hours, an attempt that failed.
While the majority of the rockets have either missed their targets or were intercepted, some did get through the Iron Dome, leading to multiple direct impacts. One such impact in the Eshkol region led to the death of two Thai workers and injuring seven more.
Other impacts also caused some injuries as well as damage to buildings.
In total, Magen David Adom has said that 10 people have died from direct rocket impacts since the conflict began, with two others having died after falling while running to shelter. 114 have been wounded from direct rocket impacts, 7 seriously, and 198 wounded from falling while running to shelter, 1 seriously. 226 people have also been treated for anxiety.
On the northern border with Lebanon, which has remained relatively quiet throughout the conflict, a few incidents did occur, including an attempt at firing mortars into Israeli territory, which failed, and a group of unarmed people who damaged the border fence.
While under near-constant rocket barrages, the Israeli military continued to rain ordinance down on the Gaza strip, targeting homes belonging to militants, doing targeted assassinations, and pounding Hamas's underground infrastructure.
In the past 48 hours, the IDF has targeted 15km of Hamas tunnels, more than 12 homes of senior Hamas members, the Hamas command and control center, and Hamas's internal security HQ in Rimal, Gaza.
During these attacks, Israel eliminated the PIJ commander of the northern battalion, Hisam Abu Harbid, who had replaced Baha Abu al-Ata following his assassination in November 2019.
The IDF also targeted many Hamas militants as they prepared to launch attacks at Israel, including underground rocket launchers, and mobile rocket launching crews.
In a statement published today by the IDF, they said that "IDF fighter jets and aircraft struck the Hamas terror organization's 'Metro' tunnel system in the northern Gaza Strip for the fourth time. In the strike, approximately 65 terror targets were struck by 62 IDF fighter jets using approximately 110 guided armaments."
Within Israel, riots have appeared to have wained as Border Patrol Officers have swarmed the offending areas. Over 30 families that had previously been evacuated from the City of Lod were allowed to return to their homes.
Within the more restive areas of the West Bank, two soldiers were injured in clashes with Palestinians in Ramallah. Their injuries appear to have been from gunfire.
The report from the IDF on the incident states: "A short while ago, during a violent riot at the Judea and Samaria Square, in the Ramallah district, a number of rioters fired extensively at IDF troops who were adjacent to the scene, as well as at a commander in the Judea and Samaria Division. The troops and additional soldiers responded with fire towards the sources of fire. As a result of the shooting at IDF troops, two soldiers were injured in their legs, and were evacuated to a hospital for further medical treatment."
Despite some early reports of a possible ceasefire, Israeli officials have stated unequivocally no, despite a push for one by the US and France as well as Egypt.
CrownHeights.info will update this article throughout the day as information becomes available.