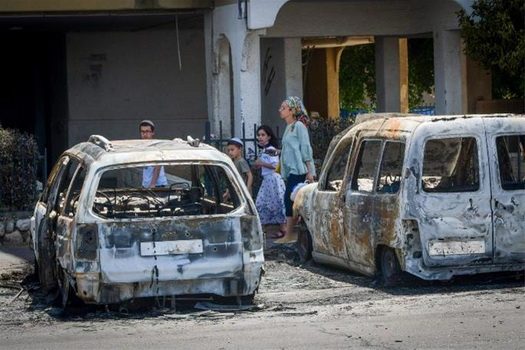 by CrownHeights.info
As the conflict that has sucked Israel into a terrible war of attrition enters its fourth day, CrownHeights.info provides an overview of events overnight.
Rocket attacks continued throughout the night, with over 130 rockets fired and more than 20 landing short in Gaza, totaling over 1600 since the beginning of the operation.. No serious impacts were reported overnight.
In retaliation, and in part of the growing operation, the IDF says they struck another anti tank cell in Gaza City. The IDF also targeted strategic targets throughout Gaza, with Gaza residents reported as saying that the attacks were so strong that the ground shook constantly.
The IDF also destroyed two branches of the main Hamas bank in Gaza, completely destroying the bank in a precision strike that left the rest of the building intact.
To date, 100 Hamas and other terror group members in Gaza have been killed in the conflict, with the IDF striking more than 650 sites. To date, one Israeli soldier has been killed in an anti Tank attack, and at least three civilians killed.
In total, since the beginning of the escalation 1,369 rockets crossed into Israel, 264 impacted populated areas. 167 events of damage, 4 of which are considered serious. 4,447 Red Alerts activated.
Riots in the city of Lod continued despite the curfew imposed, with multiple cars burned and one person stabbed in the back while walking to shul.
The Army Radio has announced that ground forces, which have been deploying south over the last four days, are now ready for a ground offensive, with the decision to be made later today.
According to reports, Intelligence Minister Eli Cohen said in the cabinet meeting yesterday, that they had decided unanimously to reject all communications of the various ceasefire efforts they had received.
We will be updating this article throughout the day with the most up to date information as it becomes available.
Update 7:07pm: IDF spokesperson tells Ground troops DID NOT enter the Gaza Strip
Update 6:53pm: The IAF attacked a large terrorist tunnel in Gaza. The tunnel collapsed, killing six and injuring 18.
Update 6:47pm: A number of Direct hits reported in Ashkelon.
Update 6:18pm: An unconfirmed report states that the Golani brigade is currently engaging inside the strip.
Update 5:56pm: IDF says residents of border communities up to 4km must remain in shelters until further notice.
Update 5:44pn: Heavy IDF strikes in the northern Gaza Strip
Update 5:30pm: Not a ground invasion, but using tanks, artillery, and infantry's mortar fire, along side air force.
Update 5:19pm: IDF air and ground troops are currently attacking in the Gaza Strip. More details to follow.
Update 5:19pm: IDF says they struck two buildings used by the Hamas cyber unit in Gaza City.
Update 5:18pm: IDF says they struck 7 ATGM cells in Gaza today, 2 in the last few hours.
Update 5:17pm: An 87 y/o woman from a town near Ashdod died after she fell while running to a shelter earlier.
Update 3:35pm: Impact ignited a fire in Ramle. No injuries, fire being extinguished by fire department.
Update 3:22pm: Non stop barrages on Central and Southern Israel. Impact reported in Ramle, forces heading to the scene.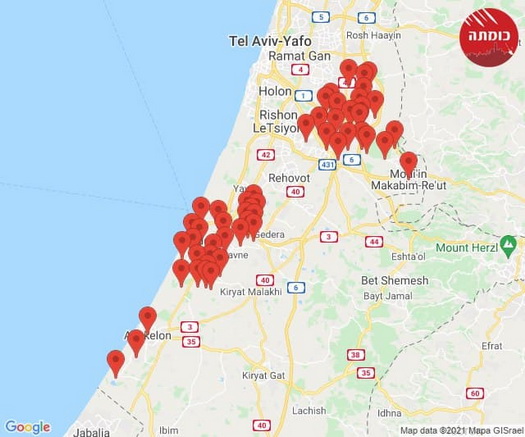 Update 2:45pm: IDF confirms 3 rockets fired from Lebanon towards the sea, near the shores of the Galilee. No siren was sounded.
Update 2:36pm: Residents in a town in Hof Ashkelon ordered to remain in homes due a suspected ongoing security situation.
Update 1:51pm: An Israeli soldier was lynched by Arabs in Jaffa earlier. Hospitalized in serious condition.
Update 12:47pm: Gantz approves recruitment of 9,000 more IDF reservists.
Update 11:48am: IDF says they struck the operational apartment of the Hamas UAV unit commander.
Update 10:56am: IDF says they struck a Hamas intelligence headquarters compound. The site includes the organization's main observatory HQ. During the strike, dozens of Hamas operatives were present at the compound.
Update 10:55am: IDF says they struck 3 additional operational apartments, from which attacks were conducted.
Update 10:49am: IDF says they struck the operational apartment of the deputy commander of the Hamas Jabalya battalion in the northern Gaza Strip, from which recent attacks were conducted.
Update 9:36am: The IDF has called up 7,000 reserves and cancelled all leave for combat units.