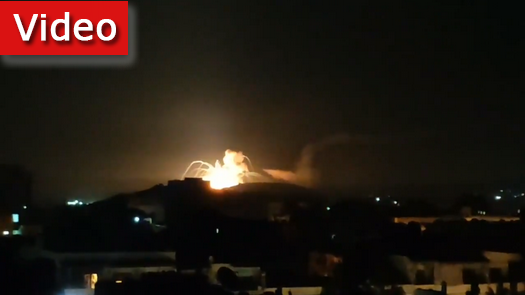 IDF fighter jets attacked dozens of military targets belonging to the Iranian Quds Force and the Syrian army in Syria overnight Tuesday, the IDF Spokesperson's Unit said.
The air strikes were carried out in response to the firing of rockets by an Iranian force from Syrian territory into Israeli territory, the statement said.
During the attack, Syrian air missiles were fired, despite a clear warning not to do so. As a result, several Syrian air defense batteries were destroyed.
"The Iranian attack on Israeli territory yesterday is further proof of the purpose of Iran's presence in Syria. This establishment is a threat to Israel's security, regional stability and the Syrian regime," the IDF statement said.
"The IDF also views the Syrian regime as responsible for what is happening in its territory, and warns it not to act or allow action against Israel."
"The IDF will continue to act firmly against Iran's establishment in Syria. The IDF is in high readiness for a variety of scenarios and will continue to operate as required for the security of the citizens of the State of Israel," the IDF Spokesperson said.
Residents were called to obey the Home Front Command's instructions which will be updated if required.
Syrian television reported earlier on Tuesday night that the country's air defense systems were deployed against what was described as "hostile targets" over southern Damascus.
According to the reports, the defense systems intercepted a number of missiles fired from Lebanon and Israel's airspace.
Additional reports indicate that the attack was carried out against Iranian weapons depots. Earlier, an explosion was reported at an airport in the capital.
Breaking video footage emerges huge fire ripping through unknown object in southern #Damascus amid #Israeli airstrikes. pic.twitter.com/5LHaG3AHxO

— Majd Fahd 🇸🇾 (@Syria_Protector) November 19, 2019
On Tuesday morning, media outlets in Syria reported that explosions were heard in the Damascus airport area.
The reports came at the same time as four rockets were launched from Syria towards the Golan Heights. The rockets were intercepted by the Iron Dome anti-missile system.
Last week, Syrian media reported that Akram al-Ajouri, the son of a senior Islamic Jihad member, was killed in an air strike on a residential building in Damascus.
Syria's official news agency, SANA, claimed that the attack was carried out by Israel.