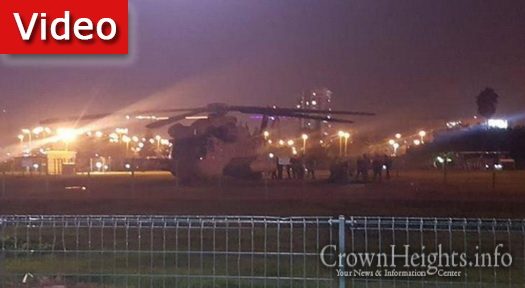 A flare up occurred Wednesday night at the border crossing of Khan Yunis on the Gaza border. Unconfirmed reports say that three IDF soldiers were injured by sniper fire, and were airlifted to the hospital.
by CrownHeights.info
A flare up occurred late Wednesday night on the Gaza border, with firing from both sides, and the use of light bombs from Israeli aircraft. The incident was reported to be at the border crossing near Khan Yunis.
Details of the incident are still emerging, but unconfirmed reports say that three IDF soldiers were injured by sniper fire. They are reported to have been airlifted to Saroka Hospital.
This article will be updated as information becomes available.
UPDATE 9:30pm: Israeli ground forces have left the area, and exchange of gunfire stopped. Israeli aircraft remain in the area.
UPDATE 10:00pm: Update from IDF spokesperson: During the night, IDF fighters identified a suspect approaching the perimeter fence in the southern Gaza Strip. After crossing the perimeter fence into Israeli territory, the terrorist fired at the fighters. The fighters located the terrorist and opened fire on him. The terrorist was killed by IDF forces. Also, Hamas' position was attacked by a tank during the incident. During the incident, several delegates and additional reinforcements were blocked to secure the surrounding communities. The entire event took place in the border area. The IDF officer was moderately wounded at the incident and two other fighters were lightly wounded, by gunfire fired at them by the terrorist. The fighters were evacuated for medical treatment at a hospital. A message was sent to their family.