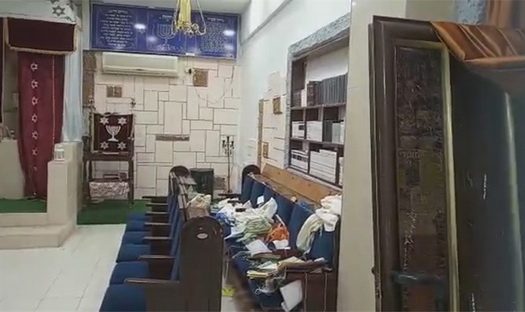 A synagogue in the central Israeli city of Lod was vandalized overnight, worshipers discovered Wednesday morning.
The synagogue, which is home to an Indian-Jewish congregation, was targeted by vandals who broke into the building and trashed the interior of the synagogue.
Officials from the synagogue released footage showing the extent of the damage. The synagogue's door was damaged during the forced entry, and the vandals also smashed a podium in the center of the prayer space. A number of religious objects, including a shofar, and equipment in the building were either damaged or destroyed.
The vandals attempted to open the Torah ark, causing damage to it, but appear to have been unable to force it open. The ark has not yet been opened, synagogue officials said, adding that they must wait for police officers to arrive before the crime scene can be altered.
"It is too soon to say what was stolen and what wasn't," a synagogue official said.
Members of the congregation noted that the synagogue desecration occurred on 'Nakba Day' – the 71st anniversary of the establishment of the State of Israel according to the Gregorian Calendar; a day which Arab opponents of Israel mark as a day of mourning.