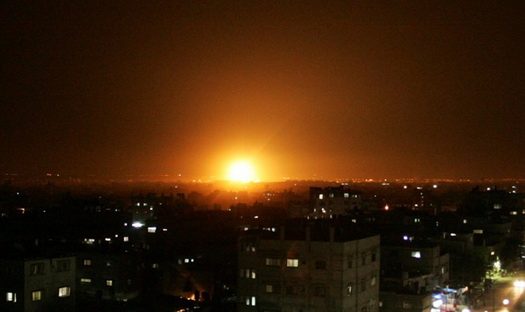 Illustration Photo
A senior Hamas leader was killed in an Israeli airstrike in the Gaza Strip Sunday night, Arab sources have reported.
According to the reports, an IDF attack involving roughly a dozen missile strikes in the southern Gaza Strip Sunday night killed multiple Hamas terrorists, including a senior commander of Hamas' Izz ad-Din al-Qassam Brigades.
The missiles reportedly struck targets in the southern Gaza Strip city of Khan Younis.
At least two terrorists were killed, and according to the Gaza health ministry, Nur Barakeh, the deputy commander of the al-Qassam Brigades, was one of the two fatalities. The second fatality was identified as Muhammed Al-Qara, an aide to Barakeh.
The Israeli military confirmed that there had been military activity in the Hamas-ruled coastal enclave Sunday night, but declined to provide details, describing the incident merely as an "exchange of fire".
"During IDF operational activity in the Gaza Strip, an exchange of fire evolved," and IDF spokesperson said.
Arab media outlets claimed that the strike was the culmination of an Israeli operation led by an undercover special operations force operating inside the Gaza Strip.
A report by the Wafa outlet claimed that Israeli F-16 fighter jets and Apache attack helicopters fired dozens of missiles at targets in eastern Khan Younis. Other Arab outlets claimed at least 40 missiles had been fired in the strikes.
A senior Israeli official said Prime Minister Binyamin Netanyahu received an update on the security situation in Gaza, and has consulted with advisors via telephone, including with senior security officials.
Netanyahu is currently in Paris, attending an event hosted by French President Emmanuel Macron marking the 100th anniversary of the end of World War I.