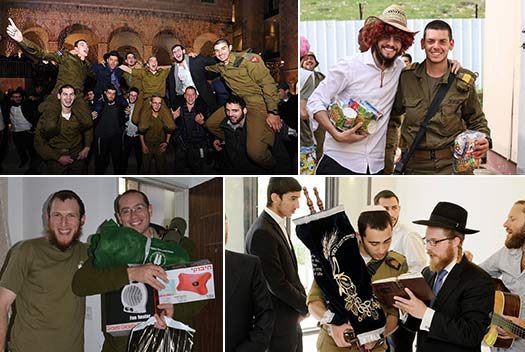 There are more than 6,000 "Lone Soldiers" currently enlisted in the Israeli Defense Forces. These are young men and women from around the world, usually teenagers, who leave their homes to enlist in the army without the support of family or friends nearby. Chayal el Chayal offers these soldiers a warm home away from home.
Chayal el Chayal provides a home in every sense of the word: a Jerusalem house in which to crash with beds, a game room, computers, books and more; Shabbat and holiday meals, care packages, rabbinic guidance and counseling services, visitation and support at IDF graduation ceremonies.
"Even just a few hours at Chayal el Chayal is enough to revive my spirits," says Michael D., a Lone Soldier from Brooklyn, NY. "The hot food is nice, the beds are comfortable, but its the open hearts and listening ears that keep me coming back. I've been able to connect to my Yiddishkeit in a deeper way than my years in Yeshivah."
These teens sacrifice so much to protect our homeland and our people, Chayal el Chayal helps give them the material and spiritual support they so desperately need. Now you have the opportunity to partner with Chayal el Chayal by joining the raffle for a trip to Israel for four with airfare, hotels, meals, rental cars and a trip to an IDF outpost all included!
For just two more weeks, you have the chance to win a trip to Israel for four with Chayal el Chayal, while supporting the brave Lone Soldiers of the IDF.
To purchase a ticket, for more information and to learn more about Chayal el Chayal, please click here.