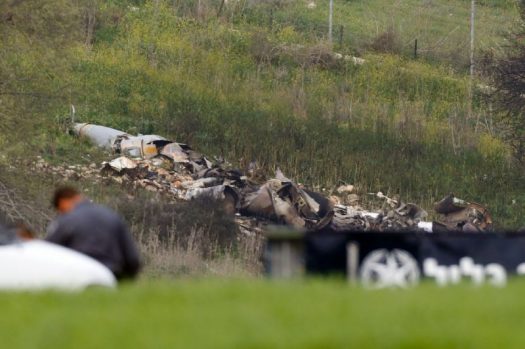 An investigation into the cause of a crash, which injured two pilots and destroyed an Israeli Air Force f-16 fighter jet, while attacking targets in Syria was caused by "professional error" according to the military.
Announcing the results of an investigation, the military said Sunday that the crew did not follow "standard procedure while under enemy fire." It says the crew chose to complete the mission and did not adequately defend themselves.
The incident occurred on Feb. 10 after an Iranian drone infiltrated Israeli airspace from Syria. Israel shot down the drone and then attacked what it said was an Iranian command center. Israeli planes came under anti-aircraft fire, and one was struck. Israel responded by destroying Syrian anti-aircraft positions.
Both the pilot and co-pilot managed to eject before crashing, one was critically injured while the other was moderately injured. Both are expected to recover.