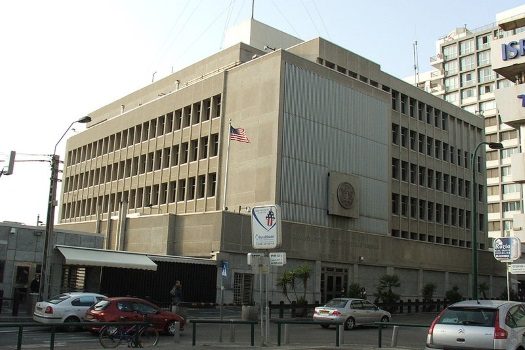 The American embassy in Tel Aviv
from Arutz Sheva:
President Donald Trump is likely to use his upcoming trip to Israel to announce the relocation of the US Embassy from Tel Aviv to Jerusalem, a senior Republican official said Thursday.
On Wednesday it was reported that President Trump is planning a trip to Israel, his first ever to the Jewish state, and is in talks with Israeli officials regarding the trip.
Unconfirmed reports claim the date of May 22 is strongly being considered for the president's visit. According to the report, the president will visit the Yad Vashem Holocaust museum during his two-day, one-night stay in Israel.
A separate report published Thursday morning by Yediot Ahronot claimed President Trump plans to recognize Jerusalem as the united capital of Israel, though no change in the location of the US Embassy will be forthcoming.