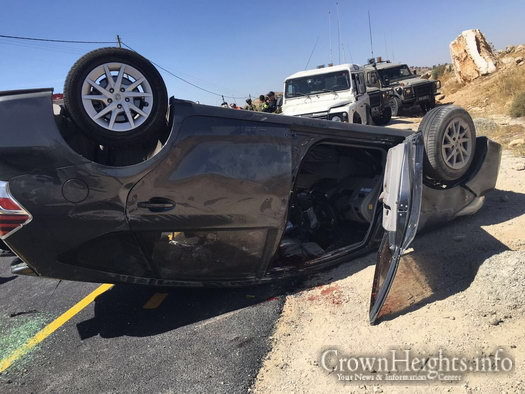 A father was killed and his wife and two teenage children were wounded in a terror shooting attack on their vehicle on Route 60 on Friday afternoon. The car overturned after a Palestinian gunman fired shots at the family. The incident occurred near Aduraim Junction, 15 kilometers south of Kiryat Arba, Chevron.
Update: The Niftar was identified as Rabbi Miki (Michoel) Mark, HYD.
Magen David Adom paramedics reported finding four people; A man in his 40s, who was pronounced dead at the scene, a woman in her 40s has been evacuated while sedated and intubated, and rushed to hospital with a severe head injury, an additional 14-year-old girl with a gunshot wound to her stomach is in serious condition and a 15-year-old male was lightly injured.
The injured were taken to Hadassah Ein Kerem Medical center and are being treated by doctors in the hospital's trauma unit.
The Palestinian gunman is still at large.