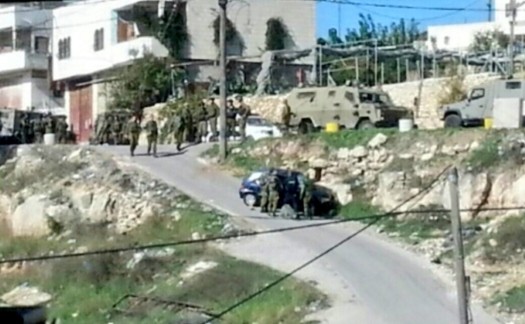 A Palestinian terrorist rammed his vehicle into six IDF soldiers Friday afternoon as they stood on the side of the road near the entrance of the Palestinian village of Beit Umar, which is located off of Route 60 in between Gush Etzion and the West Bank city of Hebron. Earlier on Friday, two IDF soldiers were wounded in a vehicular-ramming attack near the West Bank settlement of Kfar Adumim.
The two soldiers injured in the first attack are listed in moderate condition. The terrorist was shot and killed at the scene.
Regarding the second attack, The Jerusalem Post reports that the assailant was shot and killed while he was still in his car. A Palestinian flag lay on the seat of his vehicle. According to Palestinian reports, he was Issa Arafat, 18, Beit Umar.
Two of the injured soldiers were officers. One was treated at the scene and the others were evacuated to Sha'are Tzedek Medical Center in Jerusalem by Magen David Adom with moderate-to-light injuries.
Security forces arrived to the area where clashes broke out with Palestinian protesters throwing rocks and Molotov cocktails, creating difficulties for emergency workers treating the wounded.