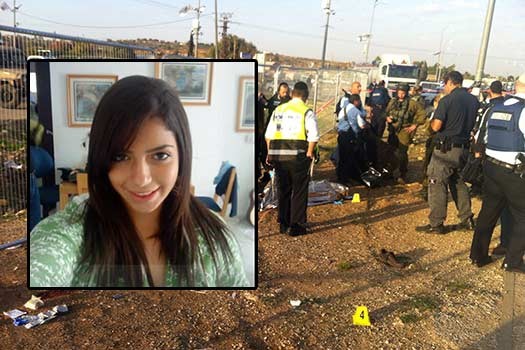 Hadar Buchris, a 21-year-old woman from Safed, was murdered by a Palestinian terrorist as she stood at a bus stop in the Gush Etzion junction in Israel. This was the third attack today.
In another round of Palestinian terror, a 21-year-old woman was murdered by a Palestinian man from Beit Fajar, near Bethlehem.
The victim, Hadar Buchris, was pronounced dead at Shaare Zedek Medical Center in Jerusalem. The head of Shaare Zedek's trauma unit, Doctor Ofer Marin said that the woman had multiple stab wounds in her head and chest. She was not breathing when she arrived and did not have a pulse. The hospital's medical staff was unable to revive her, Marin said.
ZAKA volunteer Israel Klatchkin said "We received a call from the ZAKA hotline about a woman seriously wounded from a stabbing attack. We arrived at the scene of the attack a few minutes later. The terrorist was killed by soldiers at the junction. The young woman died of her wounds at the hospital, after being evacuated by ambulance in a critical condition. ZAKA volunteers from the Shai region cleared the site of human remains."
The terrorist was shot and killed by IDF forces.
Earlier today a Palestinian taxi driver attempted to commit a vehicular terror attack by running over Israelis that were waiting at a bus stop at the Kfar Adumim junction. After failing to strike anyone he exited his vehicle with a knife in hand, only to be shot dead by a civilian.
A second attempted stabbing attack occurred at Chativat Shomron where a group of people were hitchhiking and waiting for a ride. A female Palestinian terrorist approached the group of people and pulled out a knife.
A fast thinking civilian, who was just stopping to pick up passengers, witnessed what was about to transpire and 'floored the gas' on his car and ran over the terrorist. An IDF soldier then shot the terrorist dead.
The driver of the car was identified as Gershon Mesika, the former head of the Shomron Regional Council, whose vehicle ended up inside a ditch and likely saved many lives.