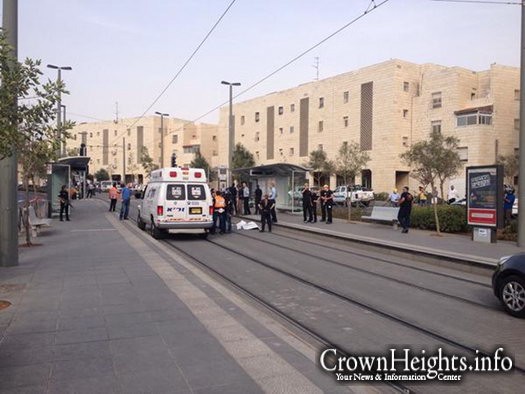 5 Stabbing Attacks in 24 Hours; 13-Year-Old Critically Wounded
The relative calm in Israel on Sunday was shattered in the evening hours when an Arab-Israeli terrorist drove his car into a young woman and stabbed three other victims north of the city of Hadera.
That gruesome attack was followed by another four stabbings that occurred today, Monday:
-A Palestinian man attacked an Israeli police officer with a knife at the Lion's Gate entrance to Jerusalem's Old City and was shot dead by police. The officer was wearing a protective vest and was not injured.
– Two Palestinians stabbed a 20-year-old as he walked down a street in Jerusalem's Pisgat Ze'ev neighborhood. They then stabbed a 13-year-old boy riding his bicycle, wounding him critically. An Israeli civilian chased the two Palestinian attackers; one of them was apparently hit by a car and wounded. Police say they shot the other attacker and killed him when he ran at officers with a knife raised and ignored calls to stop.
-A policeman was stabbed in his abdomen by a female Arab terrorist in the Ammunition Hill area of Jerusalem. The border policeman, who was outside National Police Headquarters, managed to draw his weapon and fire at the terrorist, wounding her seriously. He was transported to the hospital in light-to-moderate condition.
– There are initial reports emerging that three Israelis were wounded in what appears to be a stabbing attack in Kiryat Gat.
Aside for these five stabbing attacks, on Sunday a woman detonated an explosive and lightly injured a police officer at the A-Zaim checkpoint on the road between Ma'aleh Adumim and Jerusalem.