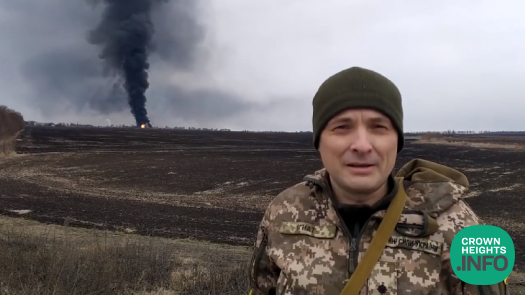 (UPDATED 6:14PM) Russian Military Faces Devastating Supply and Logistic Crisis, Humanitarian Situation Worsening Throughout Ukraine
by CrownHeights.info
Russian President Putin announced the invasion of Ukraine late Wednesday night, and immediately followed it with action. The following is a summary of incidents, numbers and breaking news on the war.
This article will be updated throughout the day as information becomes available.
6:14pm: American Express Suspends Operations in Russia and Belarus, followed by TikTok and Netflix over new Russian Fake News Law.
2:14pm: Update on Diplomatic efforts:
Israeli Prime Minister Bennet met with Putin for 3 hours yesterday in Moscow.
Then he went to Berlin, met with Scholz.
Erdogan and Putin met this morning.
Erdogan later met with the EU.
Meanwhile, Macron met with Putin.
Now the Israeli Prime Minister met with Putin.
2:13pm:
11:30am: General Update:
Russian Military around Kyiv are allegedly on the brink of a Supply and Logistical crisis as general transport conditions and targeted attacks on their convoys nearly halt all resupply.
Growing probability that Russia will expand the Ukraine invasion to involve the separatist Moldovan region of Transnistria.
Using 8 missiles, Russia completely destroyed the airport in Vinnytsya.
The Russian defense ministry has reported that Ukrainian warplanes have been landing in Romania after the attack on their positions. Even if untrue, the report could lead to additional countries being pulled into the war.
Almost 11 thousand people have been detained in Russia at anti-war rallies since February.
Ukrainian reports claim as many as 11,000 Russian soldiers dead.
For earlier updates: Click Here