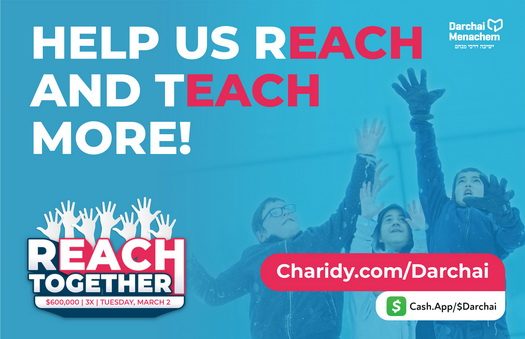 Donate To Yeshivas Darchai Menachem So We Can [R]EACH Astronomical Heights
The past year has been full of ups and downs. Yet, as our community demonstrated time and again, when we are TOGETHER we can [R]EACH astronomical heights!
And on Tuesday, March 2 we will!
Yeshiva Darchai Menachem is growing in every possible way. Especially this past year, as the world dramatically changed, Darchai grew dramatically on three highlighted fronts:
Our Student Body;

Our Education;

Our Space.
Student Body
Last year, 5780/2019-20, Darchai had 102 students. This year 5781/2020-21, Darchai's student body grew by over 40%, with 143 students. Next year, we project to grow even more and enroll 170 students IY"H.
Education
This year, we added two new grades, 1st and 2nd, with great success B"H. Our high school has blossomed into an independent mesivta in its own space and with its own inspiring atmosphere. Next year, we hope to add to our early childhood education with our new Pre-1A.
Space
Last year, with your essential help, we purchased the building adjacent to Darchai, enabling us to grow as we have and enroll more of your precious children. 
On Tuesday, March 2, we will raise $600,000 to help us [R]EACH TOGETHER in achieving our personal, familial, and communal goals. Every dollar given at Charidy.com/Darchai will be matched 3x.
This is what [R]EACH TOGETHER looks like:
[VIDEO]
Our parents, our neighbors, our community makes Darchai Menachem happen. Because of you, we have the zchus to inspire our students to reach higher and [R]EACH TOGETHER.
Each of us are essential. Each of us can reach higher than we can imagine.
[R]EACH TOGETHER means we need YOU To help us continue growing. 
Please go to Charidy.com/Darchai to help us all [R]EACH TOGETHER.
This is our school. These are our children. Let us [R]EACH TOGETHER so that our students can EACH REACH higher than the stars.