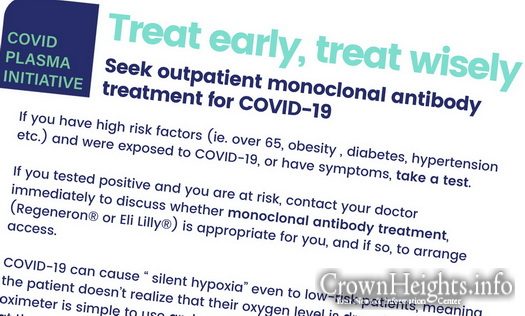 by CrownHeights.info
The Plasma Save a Life Team in conjunction with the Covid Plasma Initiative Foundation has released an advisory regarding a shining treatment for COVID-19.
Monoclonal Antibody Treatment, commonly known by the name Regeneron® or Eli Lilly®, has been touted as successful at treating COVID-19 when it is caught early.
"COVID-19 can cause " silent hypoxia" even to low-risk patients, meaning the patient doesn't realize that their oxygen level is dropping," the Covid Plasma Initiative wrote in a press release. "A pulse oximeter is simple to use and can identify this early. It is better to arrive at the hospital earlier than later, certainly if oxygen levels begin to drop. Consult medical advice if levels drop below 95. If you need to be hospitalized do not "wait and see"!"
The initiative names a list of hospitals participating in the Monoclonal Antibody Treatment, and recommended Mount Sinai Hospital.
The full list of hospitals are:
Mt. Sinai (NYC)
Maimonides (Brooklyn)
Northwell (SI and LI)
Good Samaritan (Rockland)
Monmouth Medical Center South Campus (Lakewood, NJ)
Hackensack Meridian Health (NJ)