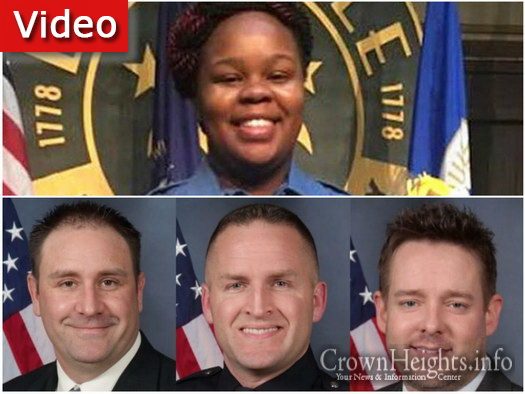 by CrownHeights.info
Just minutes after a grand jury allowed two out of three police officers to walk without charges in connection with a fatal police shooting in Louisville, Kentucky, riots began, and two officers were shot.
The protests, allegedly in protest of the "murder" of EMT Breonna Taylor, were pre-planned, with a viral video showing a U-Haul truck unloading riot shields to a group of people just moments after the news of the sole indictment was released.
At approximately 8:30pm, near Broadway and Brook Street in Louisville, a flurry of gunfire erupted, and two officers were reported shot.
According to Robert Schroeder, the LMPD's interim police chief, both officers sustained non life threatening injuries, with one shot in the abdomen, and the other in his thigh.
According to the information released during the grand jury indictment, the three officers had been part of a team attempting to execute a search and arrest warrant for a man at the address of Breonna Taylor. The man, who was previously Taylor's boyfriend, was wanted on drug charges, and had listed Taylo'rs address as his own.
According to reports, and corroborated by a neighbor, the officers knocked on the door, when Taylor's new boyfriend opened fire on the officers. The officers returned fire, and Breonna was struck and killed.
According to claims filed, Breonna's present boyfriend had believed that it was the ex-boyfriend at the door, and was unaware he was firing at law enforcement.
The sole officer indicted by the grand jury, was on charges of "Wanton endangerment in the first degree," a charge not directly associated with the death of Breonna Taylor, and can carry a maximum sentence of five years in prison.