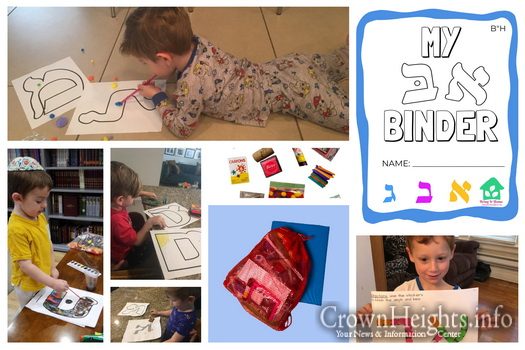 During the height of the pandemic, Bring It Home offered a hands-on, all inclusive Judaic curriculum geared for 3-5 year olds. Bring It Home sent out weekly packages with daily lesson plans and activities for Parsha, Yahadus, and Alef-Bais. The founders are experienced educators, who wanted to share their tried and true techniques with the public during this crisis.
They have compiled the Alef-Beis component into a comprehensive, hands-on curriculum that can be sent to families and used over the summer. The Alef-Beis are taught in a traditional way, while incorporating the Reggio and Montessourri approach.
The package includes a clear and easy to understand lesson plan for each letter. It also includes an Alef-Beis scrapbook, goals, tips, skills, activities, games, crafts and all necessary supplies for each letter of the Alef Bais.
It is perfect to do at home over the summer; whether your child is reviewing the Alef-Bais or familiarizing him/herself with them. Each letter's activities should take between 30 min – 1 hour.
We are offering free shipping until July 1st!
Special discount for schools and camps.
Order here: https://legacystaff.wufoo.com/forms/m1yx607b0dbyecu/
For any questions please email: bringithome321@gmail.com
Follow us on instagram: Bring.ithome