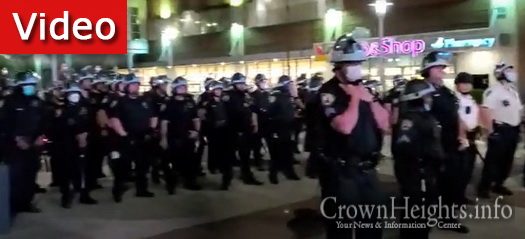 Thousands of people have taken to the streets of New York City since Saturday protesting the death of a Minneapolis man in the hands of the police. CrownHeights.info will be posting basic updates and critical information regarding the protest and any threats to the Crown Heights Jewish community.
These updates do not count for any smaller splinter groups, or people who decide to do criminal acts on their own. Please continue to take extreme caution and maintain heightened awareness.
(Signing off for the night at Midnight, stay safe everyone,)
Update 11:57pm: Another 10 under arrest in Cooper Square.
Update 11:53pm: 15 under arrest 16th and Union Square West.
Update 11:45pm: Barclay Center now, all peaceful.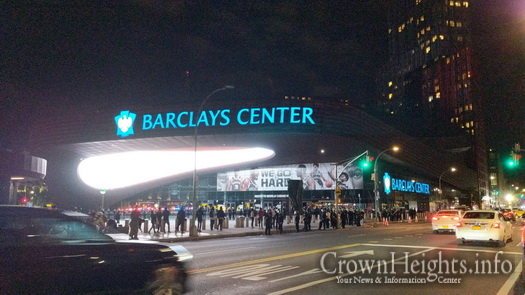 Update 11:43pm: 31st and 8th, breaking into a liquor store.
Update 11:41pm: 9 under arrest on Broadway, and 7 under on W14th street.
Update 11:38pm: 4 under Jersey and Laffayette in Manhattan.Multiple garbage fires in Manhattan.
Update 11:30pm: Officers requesting assistance BQE by Williamsburg.
Update 11:23pm: 10 under arrest on Aster place, and 34th and 6th street another 5 under.
Update 11:14pm: Officers requesting EMS for Injured Police Officer in Manhattan.
Update 11:12pm: Large group of nearly 1200 people going down Flatbush  from the Manhattan bridge towards the Barkley center.
Update 11:11pm: St Marks and Third (Manhattan), 85, objects being thrown at officers.
Update 11:10pm: Aster and Boadway and available officers to respond.
Update 11:05pm: Waverly and Broadway, objects being thrown at officers.
Update 11:01pm: An unauthorized radio is keying over the officers, they are having a difficult time communicating in Manhattan.
Update 10:52pm: Multiple arrests in Manhattan and Brooklyn now.
Update 10:40pm: 31st and 6th looters breaking into a store.
Update 10:35pm: W25th between 6th and 7th, the protesters have set up a barricade in the middle of the street, and Police have orders to begin arresting them.
Update 10:33pm: W25th and 6th officers asking for additional as they are having objects thrown at them.
Update 10:29pm: 6th and W25th, objects being thrown at officers.
Update 10:26pm: Multiple arrests in Manhattan now.
Update 10:25pm: Large group from the Manhattan bridge heading back to Brooklyn at this time.
Update 10:21pm: Police requesting corrections bus to the Manhattan Bridge where they are holding back a crowd from entering the city.
Update 10:16pm: Group of 40 looters running towards Bridges heading to Manhattan. Police closing in.
Update 10:15pm: Large Police force face protesters.

Update 10:10pm: Additional officers requested on Flatbush Ave and Nevins.
Update 10:08pm: Group of 300 people breaking into a store on 4th Ave and 13th. Inside the location.
Update 10:03pm: Group leaving the back of Modells on Flatbush and Atlantic, Police monitoring.
Update 10:00pm: Multiple Arrested in Manhattan.
Update 9:59pm: Additional Units requested 47 and 6th.
Update 9:48pm: Additional Officers requested to Union Square.
Update 9:46pm: Officer requesting a large force to 14th and 4th Ave to arrest a large group for curfew violation.
Watch Protests Live

Update 9:40pm: Rochester and Dean CPR in progress, person shot.
Update 9:37pm: E5th and Bowery, requesting additional units.
Update 9:36pm: Rochester and Dean Mos involved shooting, Shootout with police. Multiple people shot.
Update 9:35pm: 49 and 8th, car got out.
Update 9:35pm: 49 and 8th Police car surrounded.
Update 9:32pm: Gand and Baxter, SRG Officers holding multiple.
Update 9:20pm: EMS unit 49I calling a 10-13 in Queens.
Update 9:18pm: Silver BMW going the wrong way Brooklyn Bound on the Brooklyn Bridge.
Update 9:16pm: 41 under arrest on the West Side Highway.
Update 9:15pm: Today in New York City. (Video by Itzik Roytman)

Update 9:09pm: 2 under Broadway and Fulton.
Update 9:05pm: Aviation requested Fulton and Broadway.
Update 9:03pm: Officers requested on a rush Broadway and Fulton, Fight.
Update 8:56pm: 95 and Madison, 3 under arrest at this time.
Update 8:52pm: Officers on 99 and Madison are warned to watch the rooftops, as there are around 100 people there.
Update 8:50pm: 5th Ave Accident involving a corrections van.
Update 8:49pm: 96th and Madison, Officer requesting backup.
Update 8:48pm: Injured MOS 95 and Madison.
Update 8:45pm: Officers calling an 85, 95th and Madison.
Update 8:38pm: Large group crossing the Manhattan Bridge into Manhattan.
Update 8:36pm: West Side Highway and FDR blocked.
Update 8:35pm: 30 Under arrest on the West Side Highway. Again today, the focus of the violent riots appear to be in Manhattan.