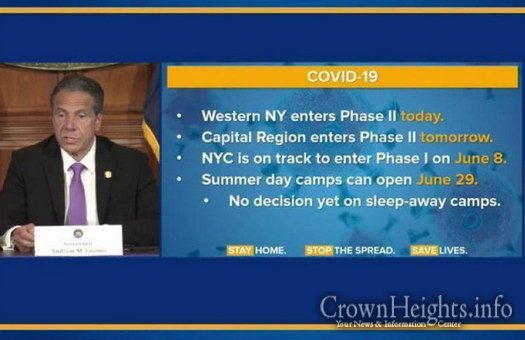 by CrownHeights.info
New York State Governer Andrew Cuomo announced that summer day camps in areas in phase 2 will be allowed to open in New York State starting at the end of June.
Cuomo made the announcement at his daily Coronavirus briefing, answering a burning question that many have eagerly waited for.
"I'm delighted that Governor Cuomo recognizes the tremendous significance of this decision for so many New Yorkers," said Assemblyman Simcha Eichenstein, "Summer camp provides an outlet for children and much needed break for their parents. Our young people have experienced both the trauma and the boredom of all these weeks of lockdown. They deserve to enjoy a safe summer filled with fun."
Overnight camps are still waiting in limbo for an answer from the state on whether they may open for the summer of 2020.
The day camps may open as early as June 29th according to New York State. It remains to be seen if New York City will weigh in on the matter.