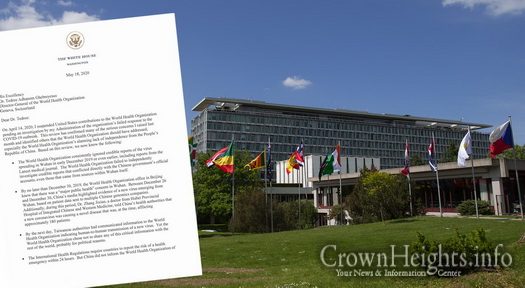 by CrownHeights.info
In a blunt letter accusing the World Health Organization of caving to Chinese pressure and withholding important information, US President Donald Trump threatens to withhold funding of the World Health Organization permanently, and possibly withdraw the US completely.
"President Xi Jinping of China reportedly pressured you not to declare the coronavirus outbreak an emergency. You gave in to this pressure the next day and told the world that the coronavirus did not pose a Public Health Emergency of International Concern. Just over a week later, on January 30, 2020, overwhelming evidence to the contrary forced you to reverse course."
In the four-page letter, Trump gave a one month window for the organization to reform, before he unilaterally acts against it.
Last month, Trump suspended US funding of the organization. The US contributes around 900 million dollars to the organizations budget, or just under one-fifth of the organization's total budget. Up until last month, the US was the World Health Organizations largest contributor.